Oshi Health Humanizes GI Suffering with New Patient Ambassador Program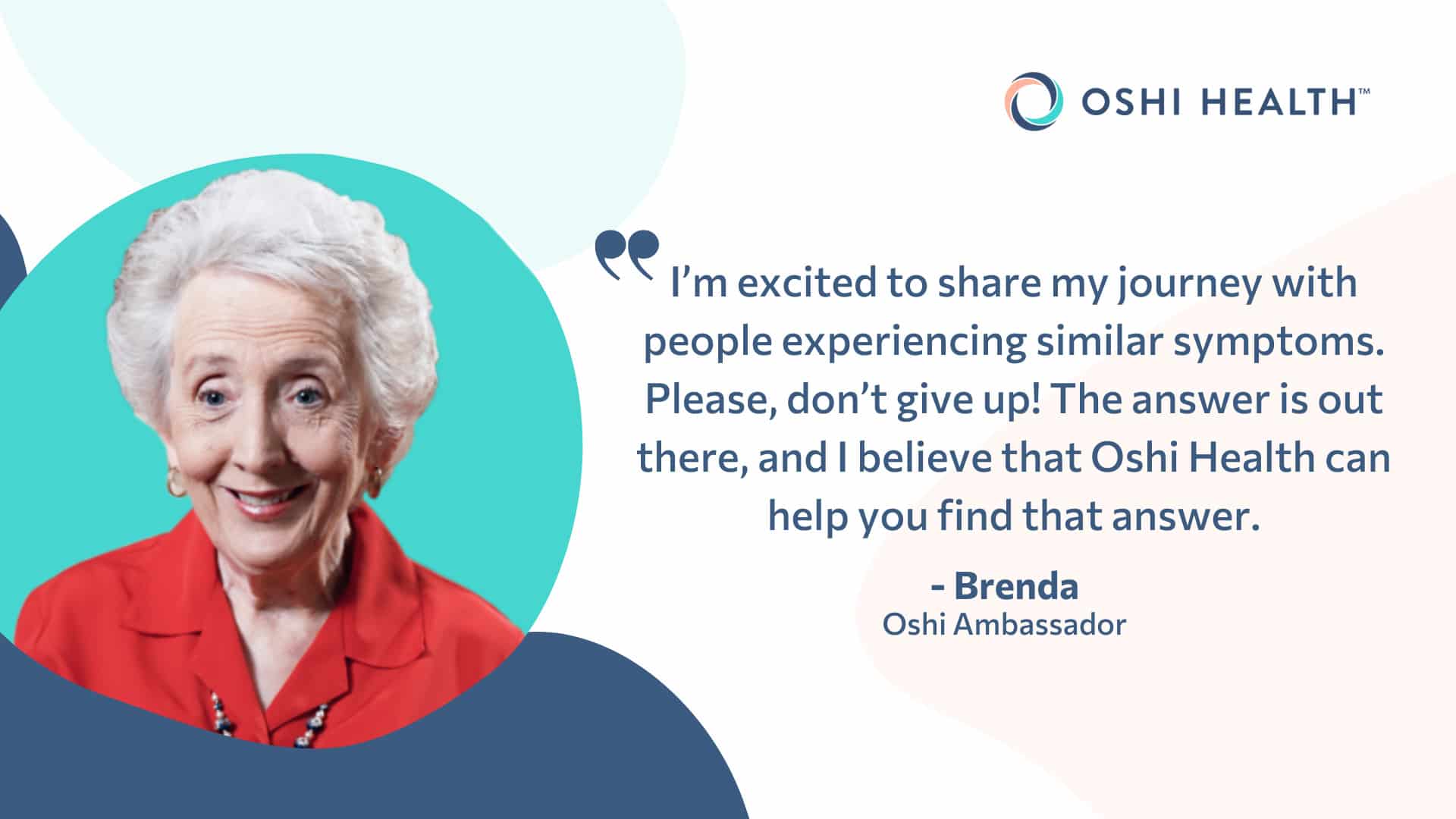 Using first person storytelling and lived experience, program empowers patients to de-stigmatize their condition by supporting those who suffer in silence
NEW YORK, May 23, 2023 – More than 70 million people in the U.S. suffer from gastrointestinal (GI) disorders, yet taboos around discussing digestive health publicly contribute to a lack of understanding around symptom control and effective treatments. To help, Oshi Health today launched a new patient ambassador program for digestive health.
Recent data from the American Gastroenterological Association shows that 1 out of 5 people would rather search online for information about their stomach problems than talk to anyone, including healthcare providers. If left untreated, symptoms often get worse.
Oshi's ambassador program features patients willing to share their lived experiences and individual journeys to heal their chronic digestive symptoms. Its aim is to de-stigmatize digestive health broadly with frank and open discussion of GI issues while providing hope, kinship and education to fellow sufferers.
"Digestive health is a set of conditions where so many people suffer needlessly and silently," said Oshi Health Chief Medical Officer Sameer Berry. "The discomfort in talking about these sensitive conditions hinders our ability to properly advocate for patients and the care models proven to improve outcomes."
Digestive disorders are very common and have a high economic burden – more than diabetes or heart disease – driving more than $135 billion in annual healthcare costs. Patients with chronic GI disorders often lack access to multidisciplinary care from traditional providers, resulting in poor patient outcomes and avoidable emergency services.
Oshi Health's multidisciplinary digestive care model is grounded in evidence-based, high-touch, whole-person care that includes often-neglected dietary and psychosocial interventions. Patients have frequent visits with their care team using telehealth tools to help them quickly achieve symptom control.
Brenda Poarch suffered for fifteen years with multiple misdiagnoses before finding relief for her IBS. After spending thousands of dollars seeking answers from various solutions, she began to lose hope and felt like a burden to her family.
"With the guidance of the Oshi team and just the right medications I am building back the life I once believed had been lost forever," said Brenda. "I now rejoice and give God the glory for the simplest of pleasures such as the ability to eat out and travel. I'm excited to be an Ambassador for Oshi and to share my journey with people experiencing similar symptoms. Please, don't give up! The answer is out there, and I believe that Oshi Health can help you find that answer."
Oshi Ambassadors are also advocating within the healthcare industry. Johanna Esser will be sharing her story at the Virtual First Care Summit on June 23.
Oshi Health incorporates a care program that is clinically validated and recommended by the American College of Gastroenterology and American Gastroenterology Association, but is rarely implemented in clinical GI practices due to reimbursement and access challenges. The Oshi approach also works alongside traditional gastroenterology practices in a hybrid collaborative care model and is available 24×7 as a covered benefit by many national insurance plans.
Recent clinical trial results reported 98% satisfaction with the Oshi program. Eighty-nine percent (89%) of participants reported improvement in quality of life and 92% reported symptom improvement. Patients also reported 1.3 fewer missed workdays per month and demonstrated lower healthcare utilization including a 64% reduction in avoidable GI-related emergency department visits.
To learn more about the Oshi Ambassadors visit: https://oshihealth.com/member-stories/.
About Oshi Health
Oshi Health is a completely redesigned digestive health care experience that transforms access to care, the patient experience, clinical outcomes and healthcare economics. In a high-touch virtual care delivery model, Oshi Health provides diagnosis and integrated care for digestive conditions and empowers people to achieve lasting control of their symptoms. Launched in 2020, Oshi Health works with innovative employers, health insurance partners, health systems and community GI practices to scale access to multidisciplinary care, reduce healthcare costs, and improve the lives of millions of Americans with chronic gastrointestinal diseases. For more information, visit www.oshihealth.com.