Scope Forward: Sam Holliday on redesigning GI care and why gastroenterology groups want to partner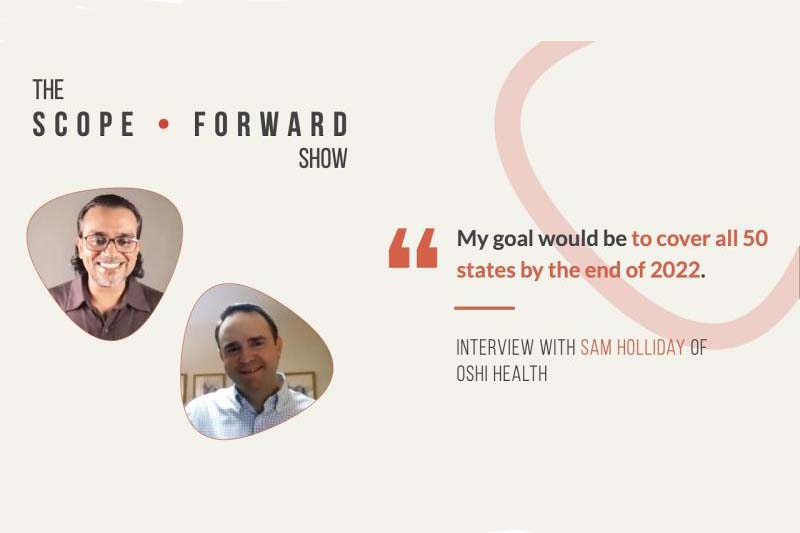 Fresh off the heels of announcing $23 million in Series A funding, Sam Holliday speaks with Praveen Suthrum of NextServices for his podcast The Scope Forward Show. (If you don't follow him already, find past interviews on Spotify and elsewhere — every episode is excellent.)
Oshi Health is born from the frustration we all have with our health systems — economics outweighing health outcomes. A GI expert, Praveen talks with Sam about how technology is disrupting GI as we know it, and the future of GI.
The conversation moves from why there's investor interest in digital GI to their plans of scaling up across all 50 states.
In this episode, we discuss:
● The lightbulb moments that led to Oshi Health's model of care
● Oshi Health's strategy and plans to scale — where the company can fill the gaps in gastroenterology today, and where it will always be complementary to in-person care
● Rethinking the payment models for GI and the likely path to value-based GI care
1:20 – 6:54 The journey to today's Oshi Health
● We came to the conclusion that technology alone isn't going to solve the patient problems in GI care. We saw the opportunity to transform the company from a self management platform to a care delivery company.
● We started the current model pre-pandemic, with the question being 'will people use telehealth and will people pay for telehealth?' Obviously with COVID, the pandemic forced everybody to try out telehealth. For the most part, people liked it on both sides — for the clinician and the patient — and that was fuel for us. It also opened up a lot more payment for telehealth and an acceptance of telehealth as needing to be part of a care mix going forward.
● We started seeing patients in December of 2020, and we launched our first payer-sponsored program in March of 2021. So we've been now seeing several hundred people and we're getting great early results.
6:54 – 8:58 What triggered investor interest in funding Oshi Health
● A couple of companies in the space have been innovating in GI and that's great, but nobody was saying 'We can deliver care and we can help people get a diagnosis; We can prescribe medication; We can also fill in the gaps, the dietary and the psychosocial support that a lot of people with GI conditions want and need.'
● As our investors started talking to payers and employers, they realized this is an emerging area. People are seeing the costs in GI in total going up year over year, and there isn't a strong indicator that outcomes are getting better.
● I think part of the reason we got the investment is we have a strong vision and we started to prove it out. So I mentioned we've seen a few hundred patients at this point, and amazing satisfaction from a patient side — 98% satisfied, NPS scores that are five times the industry average. We've also seen people saying in self-reported data 'my symptoms are better,' and 'I actually feel more in control of my symptoms.' We are estimating that we've been able to actually really make a difference in costs by preventing escalations and getting people better managed, better controlled.
● A lot of this comes back to the parts that are hard for GI clinics to do: the dietary support is really frequent-touch. We're talking to people on average every two weeks. This is a very high touch, high frequency care model that complements what the current system can do.
9:00 – 11:55 The Oshi Health model and partnering with local GI groups
● We provide people with access to a gastroenterologist, nurse practitioners, dietitians, psychologists, health coaches, and a care coordinator. That's their team that Oshi Health is giving them access to, and we're doing this in a very proactive, high touch model using all of the evidence.
● We take the first visit to meet the person and understand what's going on, capture past records so that we understand what's already been done and what's already been tried. And then come up with our care plan for that person. We also make sure we understand if they're already seeing a gastroenterologist, and if so, we don't want to get in the way of that relationship — we want to be able to complement it. If that person in that clinic doesn't have a good GI dietitian or psychologist, we can be those parts. We can be the in-between-visits support, and we can make sure your GI is informed about anything that we might be doing with you and vice versa.
11:55 – 17:15 The need for GI care reinvention and the path to value-based care
● It's important to realize that it's the current system that's flawed. We built a healthcare system that didn't start by being built around the patient and what the patient needs. We've really built it around the payment model and the providers' efficiency. That's the fee-for-service system.
● We designed our care model at Oshi Health around what will solve the patient's problem, how to make it a great experience to get that kind of support and how to make GI care more affordable. We'll figure out the payment model from there. Now we're pitching to payers and employers that we can really help people with these conditions, and add in the parts that don't really exist in the current system.
● In GI, we don't have those simple measures like biomarkers, which makes it harder for people to understand what constitutes quality care and whether patients are getting better. You have to ask the patient and you need to check in on them more frequently than our system is designed to do.
● I think the investment reflects that we need to reinvent care, and we've got an idea of how to do that. We're going to need help and support from the GI community, and we look forward to partnering. We've had some payers say we should really get Oshi Health and a couple of our large GI groups together and look at value-based contracts, and set up a test of our integrated model. We would love to do that.
17:15 – 20:59 Scaling Oshi Health
● So right now, we're operating in a handful of states and we have some new relationships and states that we'll be launching in January. We need to continue building partnerships in these markets with the local GI's and their groups. Really our goal is to keep expanding geographically. My goal is to be in all 50 states by the end of 2022.
● We are providing care, so we have to comply with all of the state licensure, and build out our clinical team to deliver care to patients in those states.
● We also need to build partnerships with local GIs. Many of those practices don't have access to diet and psychosocial support. And some patients really do need to get in and get a colonoscopy or endoscopy. And we will need partners to help that patient. We're really looking over time to build our own network of partners in each geography to work together and solve a patient's needs. And eventually, we need to get into some value-based payment arrangements with health plans.
21:00 – End the risks in GI
● When we talk to local gastroenterologists, we quickly get past the fear that 'you're going to steal my patient' — and it becomes clear that's not what we're trying to do. I ask the questions…'What do you do when you have a patient with IBS and you've tried medication and it's not working and you know that person needs dietary and psychological support, but you don't staff those roles? What do you do with that person? And what do you think that experience is like for that patient? Most say they don't know what else to do for them.
● We say 'Okay so what if you refer those people to us and we are actually able to get the person feeling better, sustainably with these interventions?' The patient is going to have a much better impression of you as the gastroenterologist who got them the help they needed.

Follow on LinkedIn: