Oshi Health Wins Prestigious Health Plan Innovation Roundtable (HPIR) Traction Award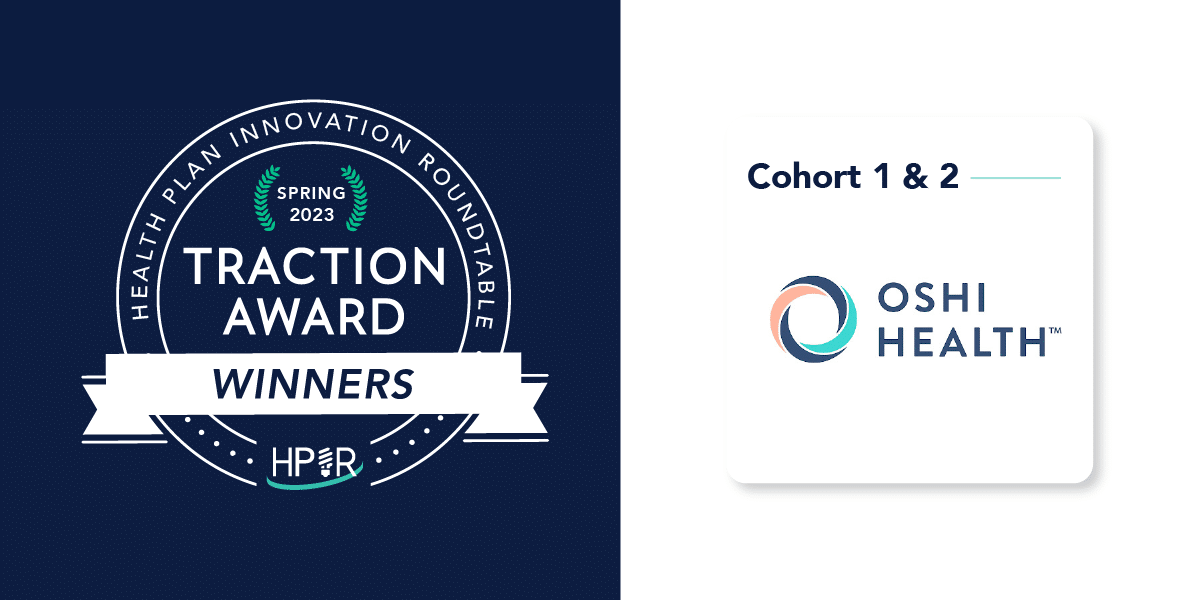 Virtual specialty care provider for digestive health continues recent momentum, garners most interest from health plans and is the highest matching innovator of Spring 2023
NEW YORK, May 1, 2023 – Oshi Health, the virtual specialty care company transforming gastrointestinal (GI) health outcomes and economics, has won the Spring 2023 Health Plan Innovation Roundtable (HPIR) Traction Award. The award, along with Oshi's recent partnership with Aetna and its latest fundraising round, demonstrate the increased urgency of insurers and employers to address digestive health concerns and scale access to virtual multidisciplinary digestive healthcare.
HPIR's Spring Summit brings together leading health plans from across the country to learn about innovative solutions and companies that advance the strategic priorities of health plan members. Participating companies are chosen as part of a competitive process and the Traction Award is given to each company that garners the most health plan interest within four distinct cohorts. Oshi was invited to present to all four cohorts and was the highest matching innovator of the spring 2023 cycle.
"This is an important validation of the Oshi Health approach to care delivery and our clinical impact," said Sam Holliday, Oshi Health CEO. "Millions of people in America suffer needlessly from a wide range of treatable digestive issues, but cannot access the types of care that are most effective in resolving their symptoms. This award is meaningful because it shows the industry is paying attention and actively searching for the solutions that are most effective in improving digestive health outcomes and economics."
HPIR was born out of the Employer Health Innovation Roundtable (EHIR) and includes a collaborative group of regional health plans and an innovation accelerator. It provides an intimate and collaborative forum for health plans to network and share challenges and ideas with peers. HPIR holds spring and fall sessions for members to hear from a select group of healthcare innovators.
Oshi Health's virtual multidisciplinary digestive care model makes integrated care – including often-neglected dietary and psychosocial interventions – available 24×7 as a covered benefit. This groundbreaking approach to care is transforming digestive health, conditions that affect 25% of the population and drive significant avoidable costs.
Recent clinical trial results demonstrated 98% member satisfaction while achieving savings of $6,724 per patient in GI-related costs, and $10,292 per patient in all-cause healthcare costs after 6 months in the program. Patients also reported 1.3 fewer missed workdays per month and demonstrated lower healthcare utilization including a 64% reduction in GI-related emergency department visits.
Oshi Health also extends traditional gastroenterology practices in a hybrid collaborative care model that makes evidence-based care accessible in collaboration with their local gastroenterologist.
About EHIR
Employer Health Innovation Roundtable (EHIR), a World 50 company, consists of a private and independent network of the largest and most progressive employers, health plans and provider health systems. Our Innovation Roundtables are designed to accelerate innovation and create a marketplace where leaders can assess emerging trends, solutions and outcomes in a private environment amongst peers from globally respected organizations. Employer (EHIR) and Health Plan (HPIR) members collectively represent over 41 million lives and share a mission to accelerate the adoption of innovation for the sake of improving employee health, wellness and productivity. Members convene throughout the year to share learnings and collectively review and evaluate new solutions with an intimate group of like-minded peers through a streamlined process.
About Oshi Health
Oshi Health is a completely redesigned digestive health care experience that transforms access to care, the patient experience, clinical outcomes and healthcare economics. In a high-touch virtual care delivery model, Oshi Health provides diagnosis and integrated care for digestive conditions and empowers people to achieve lasting control of their symptoms. Launched in 2020, Oshi Health works with innovative employers, health insurance partners, health systems and community GI practices to scale access to multidisciplinary care, reduce healthcare costs, and improve the lives of millions of Americans with chronic gastrointestinal diseases. For more information, visit www.oshihealth.com.