Oshi Health to Present Results of Virtual Multidisciplinary GI Care Clinical Trial at ATA 2023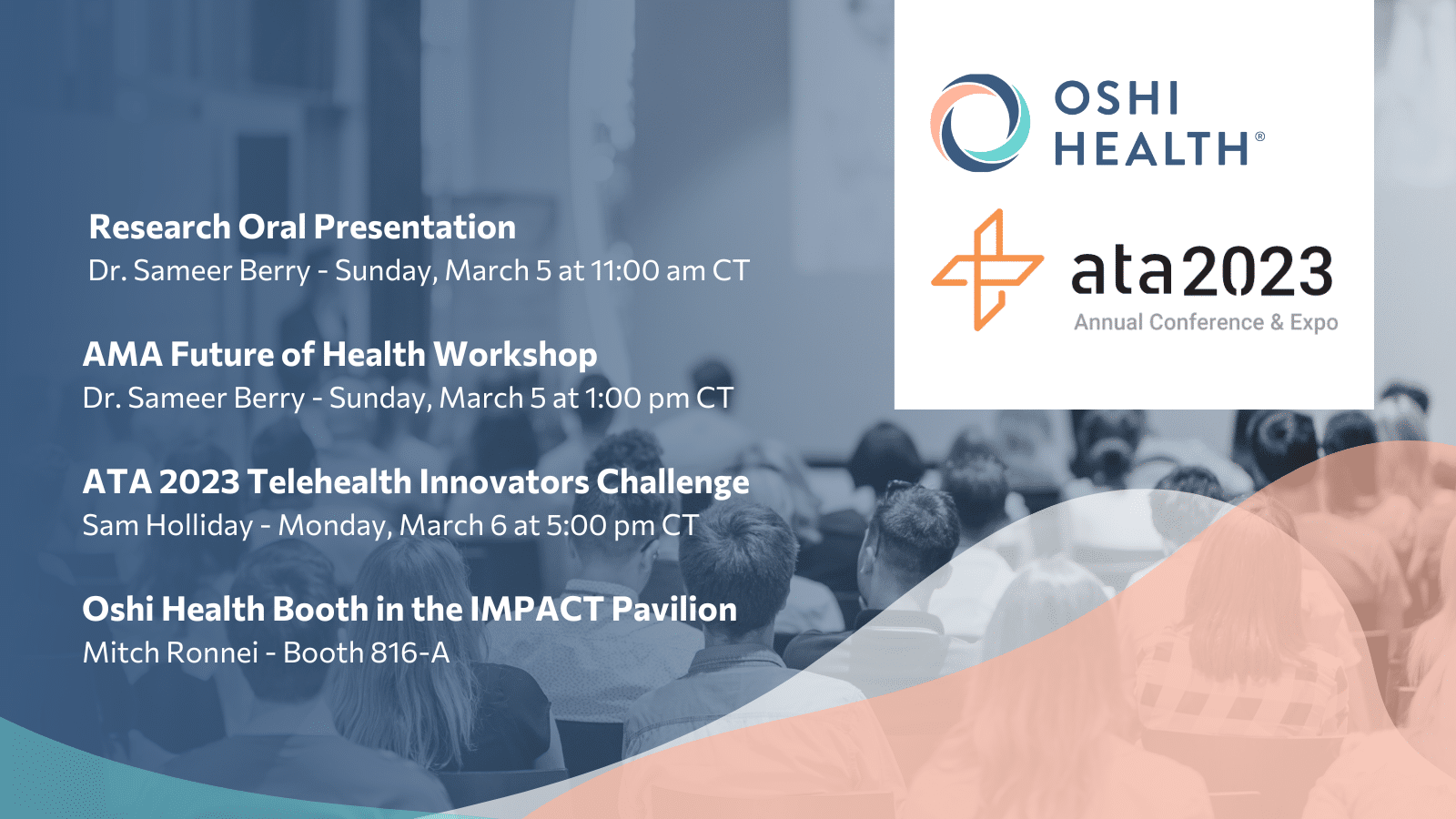 Chief Medical Officer shares significant data documenting power of virtual multidisciplinary digestive healthcare to improve outcomes and lower costs;
CEO pitches Oshi as finalist in ATA 2023 Telehealth Innovators Challenge
NEW YORK, February 23, 2023 – Oshi Health, the virtual specialty care company transforming digestive health outcomes and economics, today announced that executives will be on hand at the American Telehealth Association's 2023 Annual Conference & Expo as speakers and available to greet attendees at Booth 816-A in the IMPACT Pavilion in San Antonio, Texas on March 4-6, 2023.
Throughout the event Oshi Health will share its innovative approach to virtual multidisciplinary care in gastroenterology (GI), including:
Research Oral Presentation, Sunday, March 5 at 11:00 am CT: Dr. Sameer Berry, Oshi Health Chief Medical Officer, will share the findings of a recent clinical trial with a national payer that found that after six months of multidisciplinary telehealth care, 98% of patients were satisfied with their treatment and 92% achieved symptom improvement. Dr. Berry will lead attendees through data showing that study participants gained back an average of 1.3 work days per month while achieving savings of $10,292 per patient through avoidable imaging, reductions in unnecessary prescription drug use, and fewer emergency room visits.
AMA Future of Health Workshop, Sunday, March 5 at 1:00 pm CT: Dr. Berry will join this panel to discuss the future of digital medicine coding, coverage, and payment. As part of this plenary session, Dr. Berry will unpack how complex subspecialty virtual care can successfully interact with brick and mortar gastroenterologists through hybrid partnerships. Drawing on Oshi Health case studies, attendees will learn how collaboration through multi-channel engagement builds a virtuous cycle of care that benefits both patients and practices.
ATA 2023 Telehealth Innovators Challenge, Monday, March 6 at 5:00 pm CT: Sam Holliday, Oshi Health CEO,will take the stage to pitch Oshi's clinically proven approach to GI care as a finalist in the 2023 Telehealth Innovators Challenge "In-Patient Care Solutions" category that spotlights digital solutions that help patients overcome access to care barriers. Attendees will learn how Oshi Health's multidisciplinary digestive care model, which is grounded in whole-person care protocols that are clinically validated and recommended by the American College of Gastroenterology and American Gastroenterology Association, provides patients with convenient and high-touch virtual care, while lowering costs and improving patient satisfaction and symptom control.
Oshi Health Booth in the IMPACT Pavilion – Booth 816-A: Oshi Health team members will be available throughout the event in the IMPACT Pavilion. Conference goers are encouraged to stop by to learn more about how Oshi Health is transforming the digestive health experience through the power of telehealth and by partnering with innovative employers, health insurance partners, health systems, and community GI practices to bring multidisciplinary care to their populations.
About Oshi Health
Oshi Health is a completely redesigned digestive health care experience that transforms access to care, the patient experience, clinical outcomes and healthcare economics. In a high-touch virtual care delivery model, Oshi Health provides diagnosis and integrated care for digestive conditions and empowers people to achieve lasting control of their symptoms. Launched in 2020, Oshi Health works with innovative employers, health insurance partners, health systems and community GI practices to scale access to multidisciplinary care, reduce healthcare costs, and improve the lives of millions of Americans with chronic gastrointestinal diseases. For more information, visit www.oshihealth.com.