Oshi Health Raises $30M Series B Funding to Scale Access to Its Virtual Multidisciplinary  Digestive Care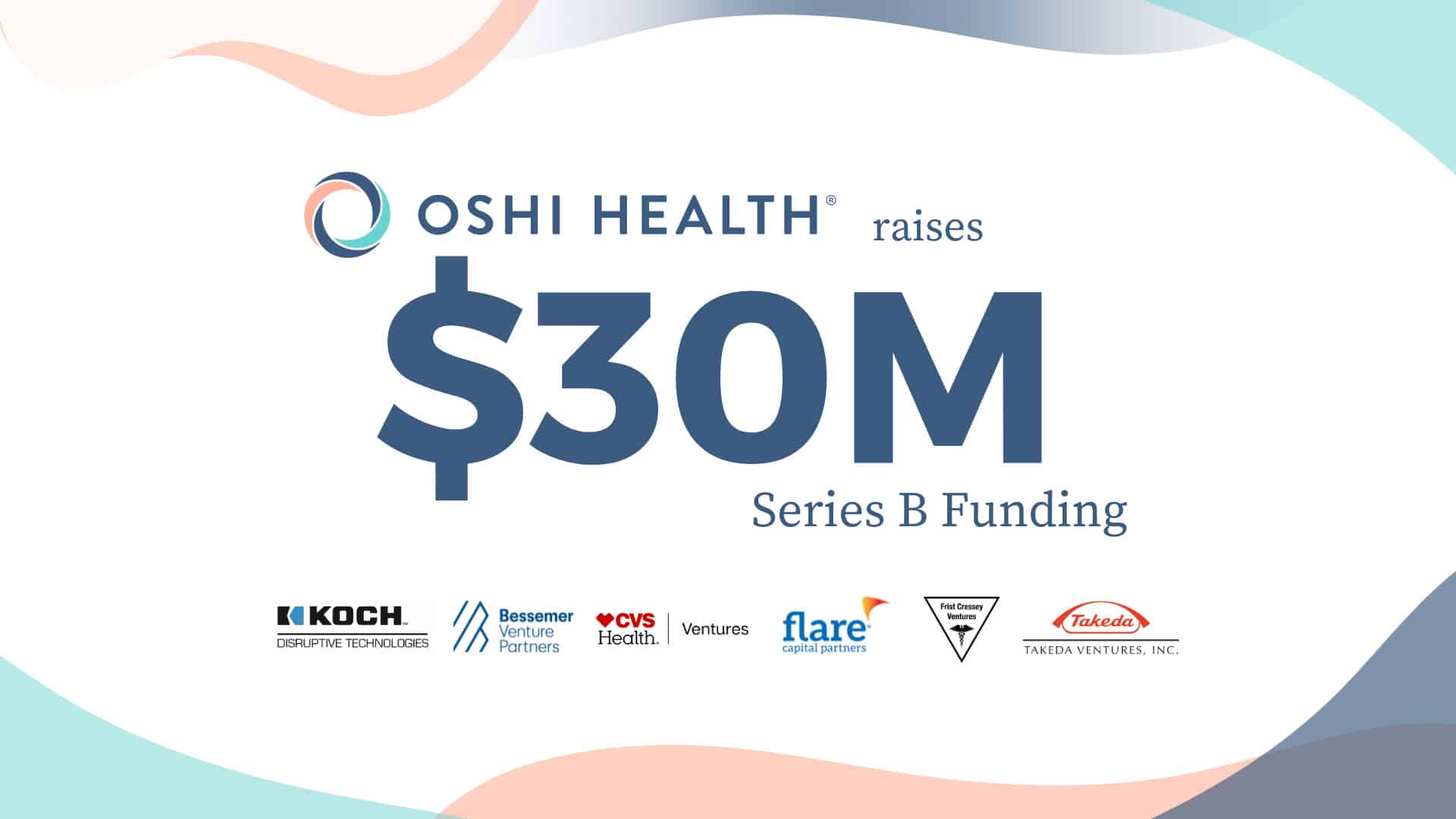 New investor Koch Disruptive Technologies joins existing investors to reinforce Oshi's market lead and address surging demand from patients, employers, health plans and provider groups
New York, NY — April 11, 2023 — Oshi Health, the virtual specialty care company transforming gastrointestinal (GI) health outcomes and economics, today announced that it has raised $30 million in Series B funding led by Koch Disruptive Technologies (KDT) and joined by existing investors Bessemer Venture Partners, Flare Capital Partners, Frist Cressey Ventures, CVS Health Ventures and Takeda Digital Ventures.
This funding will bolster the company's market leadership and momentum, as its recent clinical study results are driving accelerated contracting with payers and employers to reimburse access to Oshi Health as a covered benefit. The rigorous clinical trial of Oshi Health's differentiated clinical model, conducted by a national health plan in a large commercially insured population, showed 92% of patients report symptom improvement with 98% patient satisfaction. These outcomes are even more significant in conjunction with driving all-cause medical cost savings of $10,292 per patient in just six months.
"We've seen the impact of Oshi Health's unique care model, and we want to be part of helping health plans and employers understand the significant potential of its virtual multidisciplinary digestive care," said David Mauney, managing director of Koch Disruptive Technologies. "We are excited to help scale access to Oshi's best-in-class virtual clinic and proven outcomes which have given them the clear market lead."
Oshi Health is currently available to over 20 million people as a preferred in-network virtual gastroenterology clinic for national and regional insurers, as well as their employer customers. Oshi also partners with community GI practices in a collaborative hybrid model to extend access to care, including reimbursed access to dietary and behavioral therapies proven to improve GI outcomes.
Aetna, a CVS Health company, also recently announced a collaboration with Oshi to provide virtual care for digestive disorders to certain members. "Our collaboration with Oshi Health will help provide better access to advanced, holistic GI care for our members," said Bill Lamoreaux, Senior Vice President, Network Strategy and Provider Experience, Aetna. "Their innovative clinical model and use of technology will help us to improve the quality of care and reduce health care costs for our members."
"We've paved the way for broad access to proven treatments that our traditional healthcare system is not structured or incentivized to provide, while building value for patients, employers, health plans and provider groups," said Sam Holliday, Oshi Health CEO. "Our investors are collectively funding the change-makers in the most crucial categories of healthcare. They see the transformation opportunity and urgency in digestive care as clearly as we do, and we're proud to have them back our mission to free millions of Americans from their struggle with digestive symptoms and conditions."
Digestive disorders affect 1 in 4 Americans and have a high economic burden, driving $135 billion in annual costs – a collective impact greater than diabetes, heart disease and mental health. In traditional GI care, patients lack support between visits and are left on their own to decipher complicated symptoms and coordinate their own care. For many, symptom control remains elusive, and unmanaged digestive symptoms are the #1 cause of emergency department treat-and-release visits1.
Because of its unique ability to diagnose, prescribe, treat and coordinate care, Oshi Health is able to intercept and change the trajectory of unmanaged symptom escalations and drive the most significant outcomes and cost savings in the industry.
Oshi Health members work with a dedicated integrated team of GI specialists – board-certified gastroenterologists, registered dietitians, GI-specialized mental health clinicians, and nurse practitioners. This high-touch care experience quickly gets to the root causes of chronic digestive symptoms and members come to understand their own dietary and psychological triggers through iterative treatment and response. With Oshi Health, digestive healthcare is convenient and empowering.
"The impact of digestive disorders takes a huge toll on patients, families and their employers," said Shannon Skaggs, President of Quantum Health. "Our employer clients are looking for benefit programs that provide the kind of support and simplicity that delivers results at scale and a great member experience. As part of our Preferred Partner program, Oshi, coupled with our Healthcare Warriors and navigation platform, has allowed us to provide evidence-based medical care, dietary and behavioral health support for members dealing with GI care challenges."
This funding will accelerate the next phase of Oshi's growth, to scale its clinical team nationwide and forge relationships with health plans, employers, channel partners, and provider groups to offer transformational multidisciplinary GI care to the millions of people who urgently need it.
About Oshi Health
Oshi Health is a completely redesigned digestive health care experience that transforms access to care, the patient experience, clinical outcomes and healthcare economics. In a high-touch virtual care delivery model, Oshi Health provides diagnosis and integrated care for digestive conditions and empowers people to achieve lasting control of their symptoms. Launched in 2020, Oshi Health works with innovative employers, health insurance partners, health systems and community GI practices to scale access to multidisciplinary care, reduce healthcare costs, and improve the lives of millions of Americans with chronic gastrointestinal diseases. For more information, visit www.oshihealth.com.
1 Weiss AJ (IBM Watson Health), Jiang HJ (AHRQ). Most Frequent Reasons for Emergency Department Visits, 2018. HCUP Statistical Brief #286. December 2021. Agency for Healthcare Research and Quality, Rockville, MD. www.hcup-us.ahrq.gov/reports/statbriefs/sb286-ED-Frequent-Conditions-2018.pdf.