Oshi Health names Dr. Gil Melmed to medical advisory board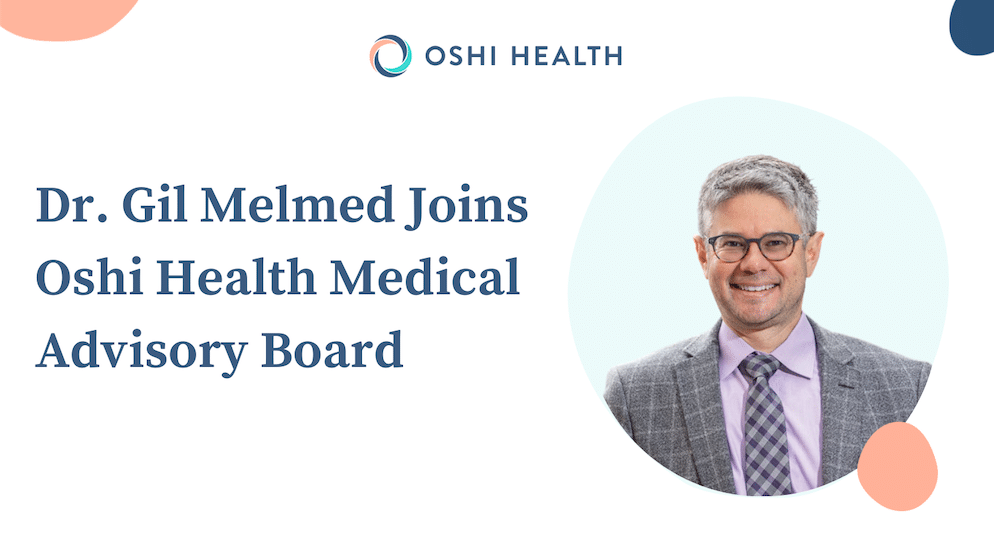 Renowned inflammatory bowel disease expert will help guide the virtual digestive care clinic to scale its whole-person approach to GI care
New York, NY – July 26, 2022 – Oshi Health, the virtual specialty care company transforming gastrointestinal (GI) health outcomes and economics, today announced that Gil Melmed, MD, MS, of Cedars-Sinai in Los Angeles, has joined its medical advisory board, alongside Dr. John Allen, retired Chief Clinical Officer at the University of Michigan Medical Group and past President & Chairman of the American Gastroenterological Association (AGA).
A renowned gastroenterologist and leading researcher on clinical outcomes in inflammatory bowel disease (IBD), Dr. Melmed has spent his career improving health outcomes, health-related quality of life, and quality of care for patients living with IBD. His prolific research includes a recently published study demonstrating that quality improvement at the practice level improves health outcomes for patients with IBD nationwide.
Dr. Melmed also oversees clinical trials of novel agents for Crohn's disease and ulcerative colitis and has spent time researching why some patients with ulcerative colitis are subsequently diagnosed with Crohn's disease. His additional areas of study include vaccine responses in those with IBD, refinement of disease classification of IBD, and outcomes after surgery.
"We have reached an inflection point in the management of IBD specifically, and of GI health in general. We now have both insights and evidence that support an evolution in IBD care from the traditional 1:1 doctor-patient relationship toward an integrated, comprehensive whole-person approach," said Dr. Melmed. "Oshi Health is uniquely able to deliver on this promise and is well-positioned to serve as an ally to traditional GI groups seeking to better support their own patients and focus on their core competencies."
Dr. Melmed is currently Clinical Professor of Medicine at Cedars Sinai and at the David Geffen School of Medicine at the University of California, Los Angeles (UCLA). He received his bachelor's degree from the University of Pennsylvania and his medical degree from Albert Einstein College of Medicine. He completed his residency at Cedars-Sinai Medical Center and his gastroenterology fellowship at UCLA, where he also received a master's of science in clinical research. He is board certified by the American Board of Internal Medicine in Gastroenterology.
Dr. Melmed is a member of the National Scientific Advisory Council for the Crohn's and Colitis Foundation and serves as Co-Chair of the IBD QORUS Quality Improvement Program. Additionally, he has served as the Chair of the IBD Section of Quality Measures Committee for the American Gastroenterology Association. He has been an associate editor for the American Journal of Gastroenterology, and is often asked to speak nationally and internationally on IBD-related topics.
"I am thrilled to welcome Dr. Melmed to our advisory board; his experience and insights will be critical as we expand in service to both patients and providers," said Oshi Health CEO Sam Holliday. "Dr. Melmed's deep understanding of the evolution of disease management in IBD is an invaluable resource for Oshi as we continue to reimagine and scale the delivery of whole-person GI care."
Oshi Health's integrated GI care model provides effective relief through high-touch, evidence-based, whole-person care — including often-neglected dietary and psychosocial interventions — and can quickly achieve a diagnosis and guide personalized treatment.
Patients connect with specialized providers via telehealth visits, their care plan is continuously informed and refined by their symptoms, food and bowel movement monitoring, and health coaching provides daily messaging and support to make sustainable lifestyle changes.
Ninety-one percent of Oshi Health members achieve symptom control in 4 months or less, in turn, driving a 98% member satisfaction level.
About Oshi Health Inc.
Oshi Health is a completely redesigned gastrointestinal care experience. Its virtual, patient-centered care delivery model is built to provide diagnosis and multidisciplinary care for GI conditions, and to empower people to gain significant and lasting control of their symptoms and improve their quality of life. Oshi Health works with innovative employers and health insurance partners to scale access to their employees and members as a covered benefit, in turn, reducing overall healthcare cost and improving productivity in life and at work. Oshi Heath was launched in 2020 to improve the lives of people with gastrointestinal diseases. For more information, visit www.oshihealth.com.