Oshi Health Named Best-in-Class Finalist in Digital Health Hub Foundation's 5th Annual Digital Health Awards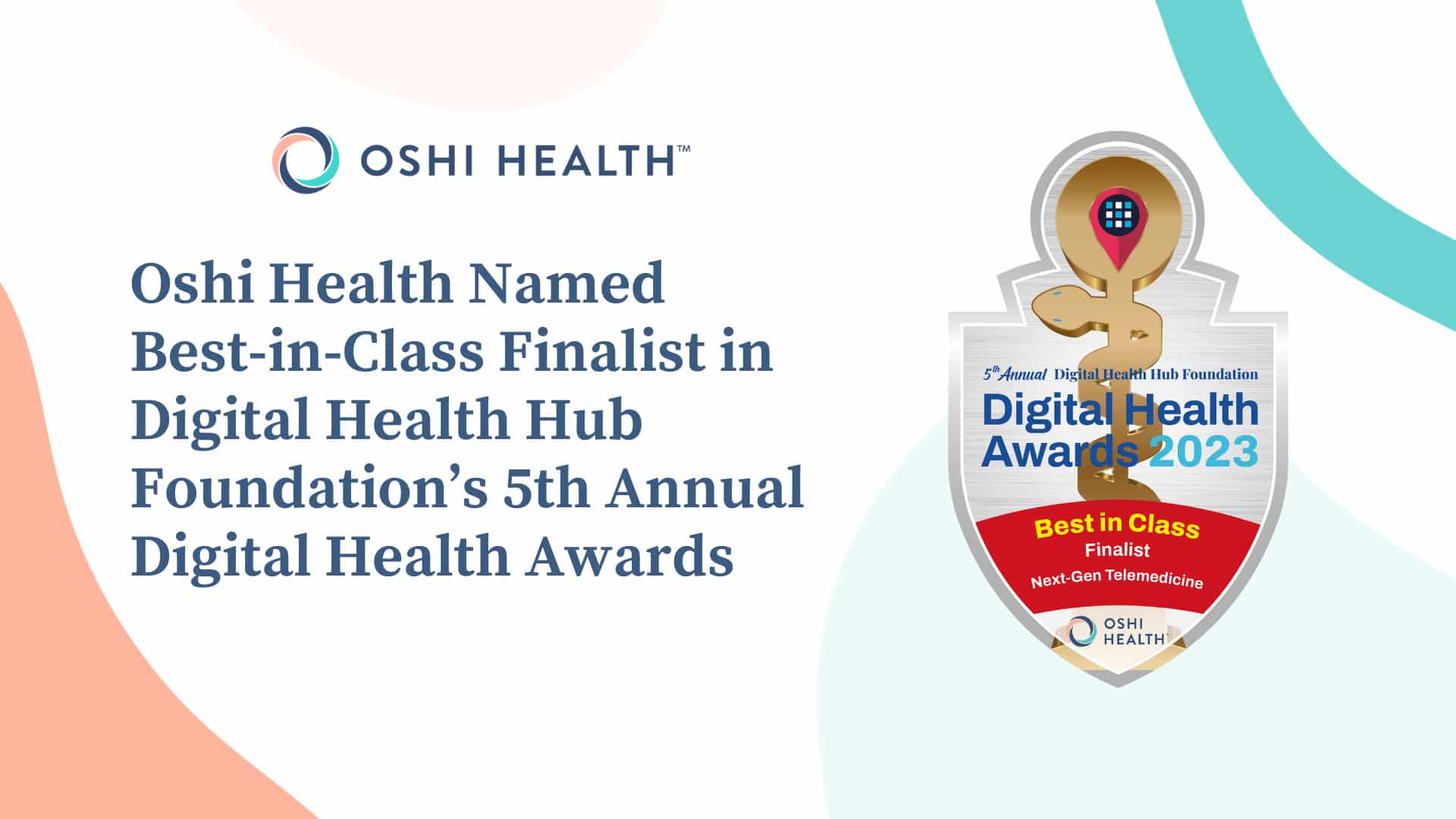 Democratizing access to high-touch multidisciplinary digestive care drives recognition for Next-Gen Telemedicine
NEW YORK, Sept. 26, 2023 /PRNewswire-PRWeb/ — Oshi Health is proud to announce its selection as a Best in Class finalist in the Next-Gen Telemedicine category for the prestigious Digital Health Awards, presented by the Digital Health Hub Foundation at HLTH, the global leading healthcare conference.
One of only four companies selected as finalists from among 1,500 applicants, Oshi Health was chosen for its ability to deliver a proven multidisciplinary care model with specialty care providers to a wide set of digestive health patients. With superior clinical outcomes and patient satisfaction scores, reimbursement as an in-network provider with the nation's major insurers, and tens of thousands of dollars in recorded savings per patient through avoided tests and care escalations, Oshi's approach and model exemplifies next-generation, value-based specialty care.
"At Oshi, we've created a clinically rigorous care model to alleviate suffering from digestive health conditions by offering fast access to proven care and therapies, removing patient burdens, and delivering a superior high-touch patient experience," said Sam Holliday, CEO of Oshi Health. "Telemedicine is an unprecedented tool to enable value-based care, and Oshi is proud to be recognized for demonstrating its potential to transform American healthcare."
Digestive conditions negatively impact the well-being of 25% of Americans and incur costs greater than heart disease and diabetes. Oshi Health democratizes access to high-value digestive care proven to improve outcomes and significantly reduce healthcare costs. Oshi provides diagnosis and multidisciplinary care through a hybrid collaborative care model, extending and enhancing in-person care and empowering people to gain lasting control of their symptoms and improve their quality of life.
The winners will be announced at the Grand Finale taking place at HLTH on the Moon Stage on October 9, 2023. Visit Oshi Health in the Digital Medicine Society (DiMe)'s Virtual-First Care (V1C) Pavilion, where Holliday will also be hosting a series of booth-side chats.
About Oshi Health
Oshi Health is a completely redesigned digestive health care experience that transforms access to care, the patient experience, clinical outcomes and healthcare economics. In a high-touch virtual care delivery model, Oshi Health provides diagnosis and integrated care for digestive conditions and empowers people to achieve lasting control of their symptoms. Launched in 2020, Oshi Health works with innovative employers, health insurance partners, health systems and community GI practices to scale access to multidisciplinary care, reduce healthcare costs, and improve the lives of millions of Americans with chronic gastrointestinal diseases. For more information, visit http://www.oshihealth.com.
About Digital Health Hub Foundation
Health Hub SF LLC, doing business as the Digital Health Hub Foundation, is a 501(c)3 non-profit, supported by the healthcare venture capital community and others, whose mission is to help the world's next best innovative healthcare companies scale and grow.
Founded in 2017, on the campus of UCSF in San Francisco, our 30,000 member community consists of thousands of early-to-late-stage healthcare companies and highly qualified healthcare industry providers, payors, experts, mentors, investors, clinicians and researchers who participate in our annual awards ceremony where we bring together the industry to honor and validate the best of the best and celebrate the technological advances in healthcare and the impact it has.
Media Contact
Stephanie Hicks, Cosmo Public Relations, Inc for Oshi Health, 805-295-9455, stephanie@cosmo-pr.com, Oshi Health
SOURCE Oshi Health