Built In Honors Oshi Health in Its Esteemed 2023 Best Places To Work Awards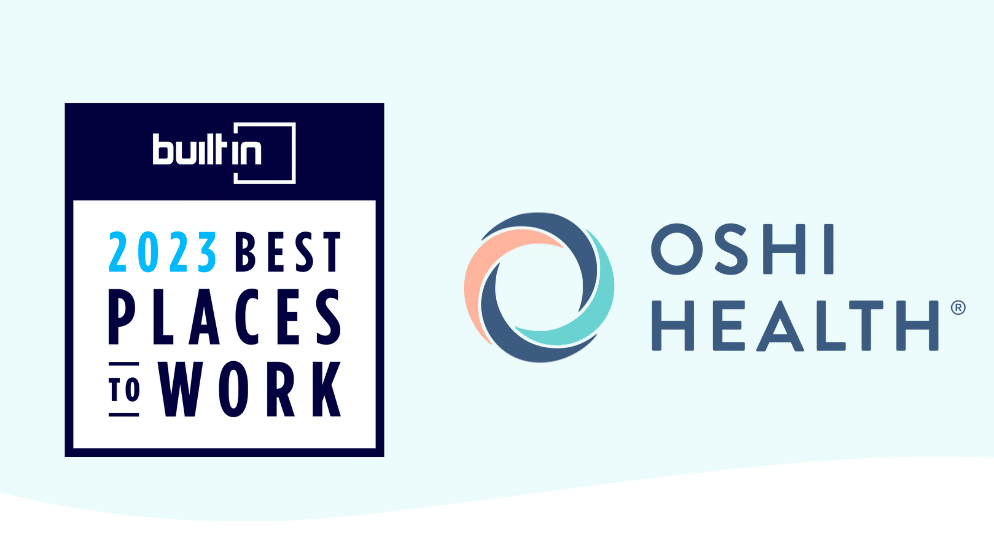 Virtual specialty care innovator focused on whole-person digestive health solution earns award for "Fully Remote Best Startups to Work For"
New York, NY – January 11, 2023 – Oshi Health, the virtual specialty care company transforming gastrointestinal (GI) health outcomes and economics, today announced that it was named one of the 2023 Best Places To Work by Built In. Specifically, Oshi earned a place on their list of "Fully Remote Best Startups to Work For."
"This recognition as one of Built In's Best Places to Work is a tremendous validation of our approach to transforming healthcare and reflects how valuable each of our team members is to achieving our mission," said Sam Holliday, CEO of Oshi Health. "The future of healthcare relies on digitally-enabled whole-person care, and our 100% remote team allows us to grow quickly and effectively scale access to that care for the 70 million people suffering with digestive health issues."
Built In uses company data about compensation and benefits to determine the winners of its Best Places to Work list. To reflect the benefits that candidates search for more frequently on Built In, the program also weighs criteria like remote and flexible work opportunities, programs for DEI and other people-first cultural offerings. The annual awards program includes companies of all sizes, from startups to those in the enterprise, and honors both remote-first employers as well as companies in large tech markets across the U.S.
"It's my honor to congratulate this year's Best Places to Work winners," says Sheridan Orr, Chief Marketing Officer, Built In. "These exemplary companies understand their people are their most valuable asset, and they've stepped up to meet the modern professional's new expectations, including the desire to work for companies that deliver purpose, growth and inclusion. These winners set the stage for a human-centered future of work, and we can't wait to see that future unfold."
Oshi Health is transforming digestive care in a way that can only be done with a virtual, remote and specialized team. There is a limited supply of expert GI clinicians in the workforce, causing patients to have long wait times for in-person care or not be able to find an expert in their geography that is covered by their insurance. Connecting patients virtually to GI experts through telehealth helps improve access to care for the millions of people suffering with chronic digestive issues. In addition, Oshi Health's high-touch supportive care delivery model gives clinicians more time to listen and more frequent visits to build a relationship with patients, leading to improved outcomes and in turn, cultivating a highly rewarding experience for clinicians.
Oshi believes the future of healthcare is a hybrid care delivery model that enhances in-person specialty care with high-touch, virtual, evidence-based, whole-person care. This integrated GI care includes often-neglected dietary and psychosocial interventions that are scarce or not reimbursed in traditional healthcare models.
Oshi Health members connect with specialized providers via telehealth visits, their care plan is continuously informed and refined by their symptoms, food and bowel movement monitoring, and health coaching provides daily messaging and support to make sustainable lifestyle changes.
Ninety-one percent of Oshi Health members achieve symptom control in 4 months or less, in turn, driving a 98% member satisfaction level.
ABOUT OSHI HEALTH
Oshi Health is a completely redesigned digestive health care experience that transforms access to care, the patient experience, clinical outcomes and healthcare economics. In a high-touch virtual care delivery model, Oshi Health provides diagnosis and integrated care for digestive conditions and empowers people to achieve lasting control of their symptoms. Launched in 2020, Oshi Health works with innovative employers, health insurance partners, health systems and community GI practices to scale access to multidisciplinary care, reduce healthcare costs, and improve the lives of millions of Americans with chronic gastrointestinal diseases. For more information, visit www.oshihealth.com.
ABOUT BUILT IN
Built In is creating the largest platform for technology professionals globally. Monthly, millions of the industry's most in-demand professionals visit the site from across the world. They rely on our platform to stay ahead of tech trends and news, learn skills to accelerate their careers and find opportunities at companies whose values they share. Built In also serves 2,000 customers, innovative companies ranging from startups to those in the Fortune 500. By putting their stories in front of our uniquely engaged audience, we help them hire otherwise hard-to-reach tech professionals. www.builtin.com
ABOUT BUILT IN'S BEST PLACES TO WORK
Built In's esteemed Best Places to Work Awards, now in its fifth year, honor companies across numerous categories: 100 Best Places to Work, 50 Best Startup Places to Work, 100 Best Midsize Places to Work, 100 Best Large Places to Work and Editor's Choice: 100 Best Hybrid Places to Work. The program honors companies – remote, hybrid and in-office – with the best total rewards packages across the U.S. and in the following tech hubs: Atlanta, Austin, Boston, Chicago, Colorado, Dallas, Houston, Los Angeles, Miami, New York, San Diego, San Francisco, Seattle and Washington DC.