By Kristen Sturt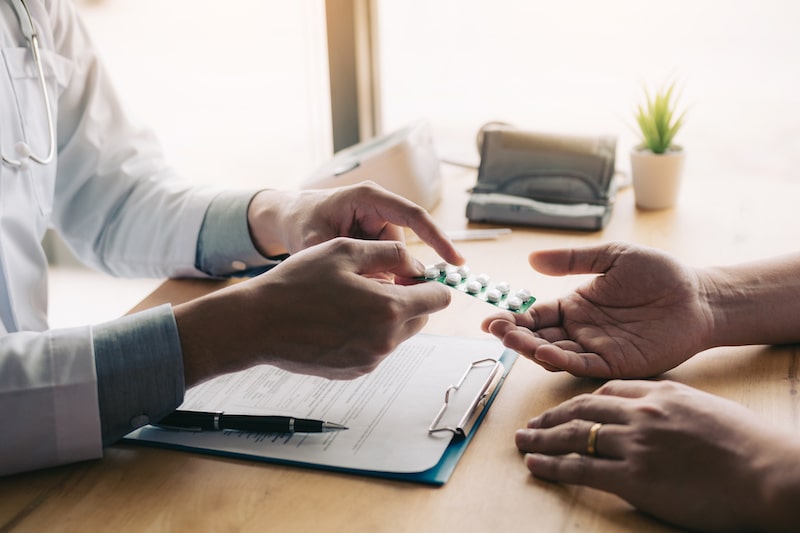 Medically reviewed by Matthew Hamilton, MD
Currently, healthcare providers have over a dozen medication options for treating ulcerative colitis (UC). A more recent addition to the list is Xeljanz, which was made available to UC patients starting in 2018. This drug was previously approved for rheumatoid arthritis in 2012.
"Tofacitinib is an oral medication that blocks enzymes called Janus kinases (JAKs) that are important in triggering inflammation in UC," says Ryan Ungaro, MD, MS, a gastroenterologist at the Susan and Leonard Feinstein IBD Center at Mount Sinai in New York City. "It is FDA-approved for both inducing and maintaining remission in moderate to severe UC."
While Xeljanz research is ongoing, doctors have learned much from putting the drug into practice. Here's the inside scoop on what every patient should know.
Who Is a Good Candidate for Xeljanz?
Xeljanz is typically reserved at present for when other UC drugs fail. "Tofacitinib is currently being most frequently used as a second-line medication, in patients for whom biologic medications have not worked," explains Dr. Ungaro. "It can also be used first-line, though this is often not feasible due to insurance issues."
Certain health circumstances make Xeljanz an especially appealing therapy, he adds. Since it's a pill taken by mouth, it's useful for UC patients who aren't easily able to get an infusion—which is necessary for some biologic drugs—or who have a severe needle phobia. It can also be a good choice for people with joint pain, he says, "as tofacitinib has been used for rheumatoid arthritis prior to approval in UC."
Every patient responds to UC medications a little differently, and whether to use Xeljanz is a case-by-case decision based on multiple factors. Some of them are health-related, like co-existing medical conditions and the potential for infection. Other determinants are more practical, including accessibility to an infusion center and health coverage. And of course, patient preference always plays a role.
Due to the potential for serious complications, certain patients may be advised against using Xeljanz altogether. These include—but aren't limited to—people with active infections or risk for infections, extensive diverticulosis, cancer or a history of cancer.
Older patients and pregnant women should also exercise "extreme" caution, says Jordan Axelrad, MD, a gastroenterologist at NYU Langone Health's Inflammatory Bowel Disease Center in New York City. "Given the lack of data on use in the elderly and pregnancy, I am generally avoiding use in these specific populations."
What Happens After You Start Taking Xeljanz?
During Xeljanz treatment, doctors will monitor your response at regular checkups. A positive reaction will show improvement across multiple areas, says Dr. Axelrad. Symptoms like diarrhea and bleeding will improve, he explains, and the intestinal lining will appear to heal. The levels of fecal calprotectin and c-reactive protein—proteins that indicate inflammation—will drop, as well.
In clinical trials, about 1 in 6 patients achieved complete remission in eight weeks using Xeljanz. Many more patients will achieve a clinical response to Xeljanz (improvement of some of the symptoms) but "If by eight weeks there is little to no improvement, a switch to another therapy may be considered," Axelrad says. "If there is a partial response to Xeljanz, therapy may be considered for a few more weeks to assess if further improvement may be achieved."
Xeljanz may cause side effects, which should be reported to a doctor for evaluation. Among the more common are upper respiratory infections, a rise in cholesterol levels, headaches, rash and diarrhea. Taking Xeljanz may also raise the risk of herpes zoster (shingles), says Ungaro, "so we frequently recommend getting the inactivated (not live) shingles vaccine (Shingrix)." Patients should be up-to-date on other immunizations, as well.
In regard to more serious side effects, Xeljanz boosts the odds of infection, and slightly elevates the chances of developing lymphoma or skin cancer. The FDA has also reported that, in a recent study, rheumatoid arthritis patients taking a higher dose of Xeljanz were at an increased risk for blood clots. However, says Ungaro, "We don't yet know the magnitude of this risk." Prescribers may decide to lower the dose of Xeljanz once in remission in order to minimize the risk of serious side effects.
What About the Long Run?
If Xeljanz is successful at achieving remission, you may be on it for some time. To help ensure the best continued response, always take it as prescribed, communicate frequently with your IBD team and make sure to attend routine appointments.
"Although it is a pill, it is still an immunosuppressive agent similar to intravenous or injectable biologic medications," says Ungaro, "so it is important to be regularly monitored."
DISCLOSURE: Dr. Ungaro has done an advisory board for Pfizer, the makers of Xeljanz, and has a research grant from the company unrelated to tofacitinib.
Medical reviewer and Oshi physician-partner Matthew J. Hamilton, MD is an Assistant Professor of Medicine at Harvard Medical School and a specialist in Gastroenterology, Hepatology, and Endoscopy at Brigham and Women's Hospital Crohn's and Colitis Center in Boston. He is a leading member of the research team at the BWH Crohn's and Colitis Center, and has garnered national recognition for his research into the underlying inflammatory processes of IBD.
Oshi is a tracking tool and content resource. It does not render medical advice or services, and it is not intended to diagnose, treat, cure, or prevent any disease. You should always review this information with your healthcare professionals.