By Kerry Weiss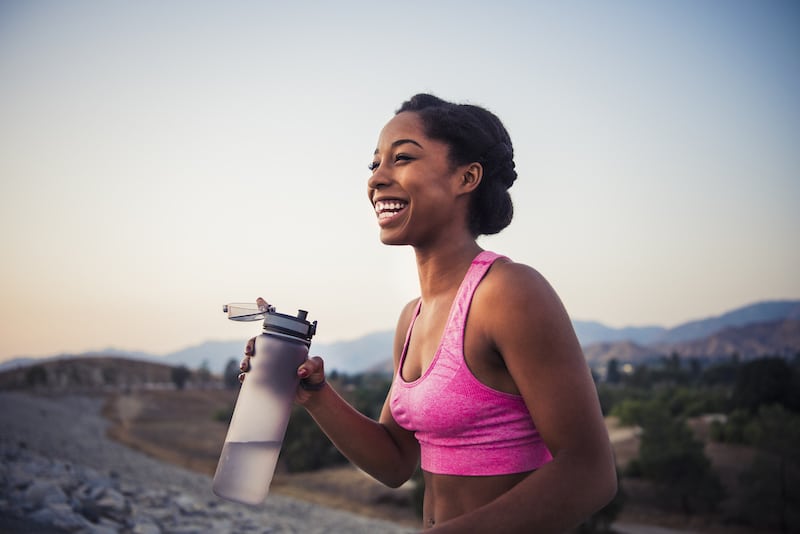 Medically reviewed by Matthew J. Hamilton, MD
If you have moderate to severe inflammatory bowel disease (IBD), a biologic drug may be part of your treatment plan. Biologics tend to be very effective in treating IBD, but they work by suppressing your immune system, which means they can affect your ability to fight infections.
The good news? There are plenty of steps you can take to stay healthy. Start with these tips:
1. Get vaccinated.
Staying on top of your routine vaccination schedule is key to staying healthy when taking biologics for IBD. "We know how to prevent most infections with biologics, which are respiratory infections—get your flu shot every year, and get your pneumonoccal vaccines at baseline and then a booster five years later," says Aline Charabaty, MD (Twitter: @DCharabaty), director of the IBD center at Sibley Memorial Hospital, an affiliate of Johns Hopkins School of Medicine in Washington, DC, and spokesperson for the American Gastroenterological Association.
Your doctor may also recommend vaccinations for:
Hepatitis A
Hepatitis B
Human papilloma virus (HPV)
Meningitis
Tetanus
Diphtheria
Pertussis
"Anything to help prevent an infectious disease and its complication," explains Dr. Charabaty.
2. Lead a healthy lifestyle.
Maintaining a healthy lifestyle can help you live well and stay healthy with IBD. "Basically the things we'd recommend for anyone even without IBD—those things do help," says Faten N. Aberra, MD, MSCE, associate professor of medicine in the division of gastroenterology at the University of Pennsylvania in Philadelphia. This includes:
Eating a balanced diet
Staying active
Getting enough sleep
Quitting smoking
Avoiding alcohol and drugs
Managing stress
"You also want to make sure you're maintaining a healthy weight and not getting malnourished," says Dr. Aberra. "People who follow a healthy lifestyle usually tend to get less sick than others," adds Charabaty.
3. Avoid others who are sick.
Taking steps to avoid germs and practice proper hygiene can help prevent infections from spreading and keep you healthy. "I recommend routine safety—if you're living in a household where someone has an active respiratory infection, wash your hands regularly, clean with bleach wipes, and minimize contact—maybe sleep in a different room," says Aberra.
4. Take precautions when traveling.
Traveling isn't off-limits when you have IBD, but it's important to avoid infection in new environments—whether you take biologics or not. "Use common sense—you really shouldn't drink tap water, eat raw seafood or meat, or eat street vendor food," says Charabaty, "because if you get a gastroenteritis, it can trigger a flare-up." Remember, you should not receive live virus vaccines (like the yellow fever vaccine), so if you are traveling to an endemic area, consult a travel clinic for prevention instructions.
5. Review any medication considerations with your doctor.
Certain over-the-counter anti-inflammatory medications, like NSAIDs (ibuprofen), can actually trigger a flare. "Often people don't realize that, and take an NSAID for a headache or back pain, and then they have a flare," says Charabaty. If you are prescribed or are recommended to take NSAIDs by another doctor, you should discuss this with your IBD doctor first.
And don't take antibiotics unless you need to, since they may disrupt your intestinal microbiome. "If you have a bacterial infection and need to take antibiotics, that's one thing," says Charabaty, "but we live in a society where often, after one day of fever, we reach for antibiotics, when we don't have to because it's probably something viral."
Likewise, you shouldn't make alterations to your IBD treatment plan without talking to your doctor. Even if you're feeling well, it's important to follow your treatment regimen to prevent flares and keep inflammation under control. If you are diagnosed with an active infection, you should consult with your IBD doctor to discuss the treatment plan and whether or not this may require holding your biologic for a short period of time.
6. Attend regular health check-ups.
"Follow up with your doctor regularly, even if you feel well, and be proactive with your care," says Aberra. "Make sure you're getting monitored for medication side effects and disease side effects—because you may feel great but still have something like anemia or liver enzyme issues."
You should also keep up with regular health-maintenance, "like pap smears, mammograms, and skin cancer screenings," says Aberra. "Following up on all of these preventive measures can help prevent future complications from IBD or from the biologic," adds Charabaty. When you may need your next colonoscopy for colon cancer screening should also be discussed at your IBD doctor visits.
7. Remember: You're in charge of your health.
"We use biologics to control the gut inflammation, with the goal to help you have a normal productive healthy life—go to work, travel, take care of your kids," says Charabaty. "Just use common-sense precautions, and communicate with your medical team to help you stay healthy."
Medical reviewer and Oshi physician-partner Matthew J. Hamilton, MD is an Assistant Professor of Medicine at Harvard Medical School and a specialist in Gastroenterology, Hepatology, and Endoscopy at Brigham and Women's Hospital Crohn's and Colitis Center in Boston. He is a leading member of the research team at the BWH Crohn's and Colitis Center, and has garnered national recognition for his research into the underlying inflammatory processes of IBD.
Oshi is a tracking tool and content resource. It does not render medical advice or services, and it is not intended to diagnose, treat, cure, or prevent any disease. You should always review this information with your healthcare professionals.