By Kerry Weiss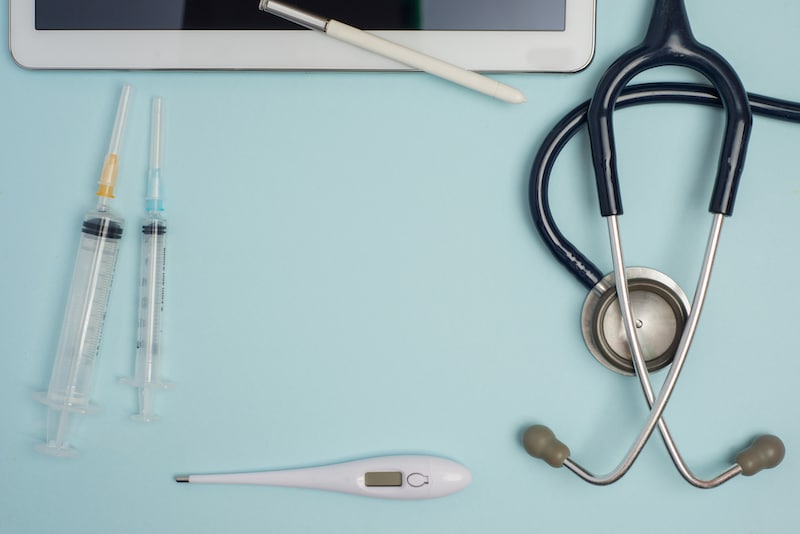 Medically reviewed by Matthew J. Hamilton, MD
When biologics were first approved to treat moderate to severe inflammatory bowel disease (IBD) in the late 1990s, they came with a lot of questions and unknowns. Nearly three decades later, we've learned a lot about these medications – but it can still be intimidating to be prescribed a biologic. You may be nervous and have questions about taking these drugs.
If so, you're not alone – we spoke with two IBD experts, who shared the most common questions they get from their patients about biologics and their go-to responses.
1. Shouldn't biologics be a last resort?
"There's still a misconception that biologics should be a last recourse in the choice of drugs for IBD – that they're for patients who are really sick, or for patients who have tried everything else first," says Aline Charabaty, MD (Twitter: @DCharabaty), director of the IBD center, Johns Hopkins School of Medicine at Sibley Hospital in Washington DC and spokesperson for the American Gastroenterological Association. "But actually, the earlier we use them in the course of the disease in a high-risk patient, the more effective they're going to be at controlling the inflammation and preventing flares and complications."
2. Will taking a biologic increase my risk of cancer?
"One of the top questions I get from patients is about cancer risk," says Faten N. Aberra, MD, MSCE, associate professor of medicine in the division of gastroenterology at the University of Pennsylvania in Philadelphia. While the anti-TNF class of biologics has been associated with a small increased risk of lymphoma, it's still a very low risk.
"Hearing about cancer or lymphoma is concerning, but because the risk is so low, you have to weigh the risk of not treating your disease with the best medication possible versus the risk of lymphoma," explains Dr. Aberra.
"The benefit we derive from these drugs—in terms of healing the bowel, giving you back your health and quality of life, preventing complications of the disease, preventing the need for steroids and ER visits or hospitalizations—outweigh the small risk of lymphoma," adds Dr. Charabaty.
3. Will biologics increase my risk of infection?
"The number one concern from patients is always cancer risk; for physicians, the number one concern is more about infections," says Charabaty. That's because biologics impact your immune system, which can affect your ability to fight infections. The good news? Keeping up with your annual flu vaccine, getting your pneumococcal vaccines, and taking other precautions like washing your hands regularly and avoiding others who are sick can help you prevent infections and stay healthy while taking biologics.
4. What side effects should I expect?
Common side effects you may experience while taking biologics include injection site reactions, as well as headache, fever, chills, hives, and other rashes.
However, these side effects are pretty rare – and there are usually ways to manage them without stopping your biologic treatment altogether, explains Aberra.

5. Which is better: Injection or infusion?
It's important to discuss which drug your doctor thinks will best improve your IBD. "Your doctor should bring up all of the options you have," says Charabaty. "Sometimes, within the same class of drug, there's an intravenous version and a subcutaneous version." Consider which is the most compatible with your lifestyle. "If you travel a lot, you might not want to be bound to an infusion center; if you have a fear of needles, or hand joint pains, you might not want to inject yourself," she adds. So be sure to weigh the pros and cons of all your options with your doctor.
6. Will the medication be covered by my insurance?
Biologics can be expensive – but you don't necessarily have to pay the full cost out of pocket. "Biologics are FDA-approved for IBD, so they will be covered," says Aberra. "The question becomes if your insurance has a tier system of approval, in which case there may be some loopholes we have to go through to make sure we can get the right medication for you." If you're still having trouble paying for your biologic medication, there are a variety of drug assistance programs that can help.
7. Do I need to be on this medication forever?
There's no cure for IBD – but with today's treatment landscape, many people can achieve and maintain remission and live a happy, healthy life. "The key is finding a treatment that works and gets you into remission," explains Aberra. "And if it works, we keep you on it until there's an issue with it—whether your disease breaks through, or there's an issue with the medicine itself – those would be the only reasons to stop taking it."
"Inflammatory bowel disease often affects people who are young, so the idea of being on an injectable or infusion for the rest of your life is a difficult concept for young people – or for anybody," adds Charabaty. "But as long as you have a drug that is working, that's controlling your disease, you're lucky – you'll want to stick with it."
So even when you're feeling well, be sure to continue taking your medication as directed, "because your disease will relapse without it," says Aberra.
8. Can I skip appointments when I'm feeling well?
Make sure you continue to follow up with your doctor on a regular basis even when you're feeling well, too. "There are things that we still have to monitor you for during visits, like reviewing your blood work and checking drug levels to make sure that your medication is not wearing off before you realize it," adds Aberra. "Because if that happens, we can modify your medication before you flare; but it needs to be done proactively."
Have Other Questions?
Always keep an open line of communication with your doctor, and don't be afraid to ask any questions you may have as you navigate through life with IBD. "It's hard for physicians to guess what your concerns are, but it's important to bring them up during your visits, because often there's an answer to ease your anxiety," says Charabaty.
Medical reviewer and Oshi physician-partner Matthew J. Hamilton, MD is an Assistant Professor of Medicine at Harvard Medical School and a specialist in Gastroenterology, Hepatology, and Endoscopy at Brigham and Women's Hospital Crohn's and Colitis Center in Boston. He is a leading member of the research team at the BWH Crohn's and Colitis Center, and has garnered national recognition for his research into the underlying inflammatory processes of IBD.
Oshi is a tracking tool and content resource. It does not render medical advice or services, and it is not intended to diagnose, treat, cure, or prevent any disease. You should always review this information with your healthcare professionals.