By Kerry Weiss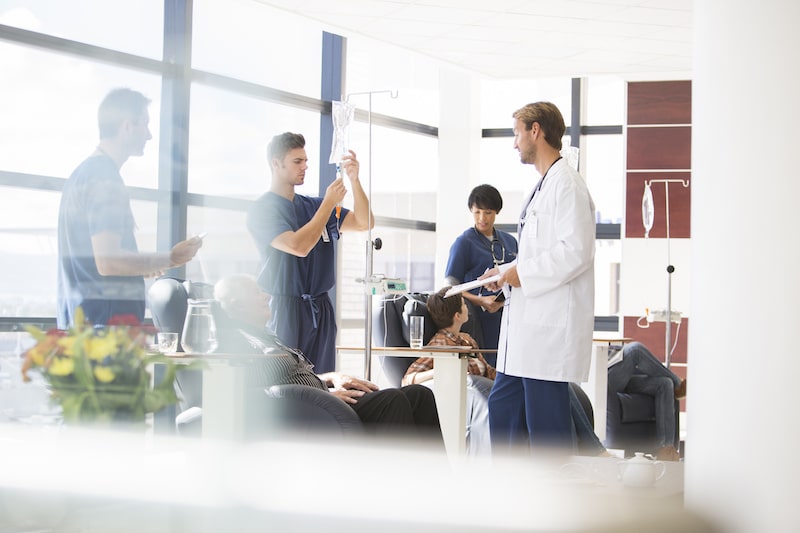 Medically reviewed by Jenny Blair, MD
Biologics, a type of treatment for inflammatory bowel disease (IBD), can be administered in one of two ways: via subcutaneous injection or an intravenous infusion.
Deciding which option is best for you is an important part of the shared decision-making process between you and your doctor. If you decide an infusion is the best fit for you, there are a few steps you can take to prepare for your infusion appointments.
Prepare for Infusion Centers: What to Know Before You Go
Typically, infusions are administered by a healthcare professional, which means you'll need to go to an infusion center to receive treatment. These tips can help you prepare for what to expect.
1. Don't pull an all-nighter beforehand. Showing up well-rested can help give you the energy you need to make it through your appointment—and may help lower any anxiety you have about infusion day.
2. Eat—and drink—up. Unless your doctor tells you otherwise, be sure to eat before you go, since you'll likely be there for a while. You can also pack snacks. And make sure to drink plenty of water at least 24 hours before your appointment, as staying hydrated can help make your veins more easily accessible for your infusion.
3. Plan on being there for a few hours. Most biologic infusions take anywhere from 30 minutes to four hours from start to finish, not including the time you spend checking into your appointment, waiting for your turn, and getting your vital signs checked. Plus, you might need to stay an extra 30 minutes after the infusion to be monitored for reactions or side effects.
4. Bring entertainment. Ask if there's Wi-Fi if you want to use your phone, tablet, or laptop. Pack a book, crossword puzzle, or other entertainment to keep you occupied while you wait. Or ask if you can bring a friend to keep you company.
5. Make yourself at home. You may be there for hours, so you might as well be comfortable. Wear comfy clothes, and bring layers in case you get chilly. If you think you'll be there for more than a few hours, consider bringing a blanket and pillow, too.
Prepare for Home Infusions: Things to Consider
Are you more of a DIY-er? Home infusions are also available, and for certain patients they're quite safe, as well as cost-effective.
If you have a busy lifestyle, home infusions may seem like a more convenient option, since they eliminate the need to take time off work and travel to an infusion center for treatment – and sit there for hours.
Depending on the exact type of biologic you're prescribed, you may still need to start out under doctor supervision.
One important thing to note: If you go the home infusion route, it's especially important to remember to stick with your treatment plan exactly as prescribed and follow up with your doctor for routine monitoring. Studies have shown that those who administer infusions at home may experience more issues than those who have their infusion at an infusion center.
That advice holds true regardless of where you receive your infusion. Even if you're in remission and feeling well, it's important to stick with your treatment schedule and check in with your doctor to review how well your treatment plan is working.
Jenny Blair is a writer and journalist covering science, medicine, and the humanities. She earned her MD at Yale University, then completed a residency in emergency medicine at the University of Chicago. After several years in practice, she transitioned to working with words and ideas full-time. Jenny has contributed to Discover, New Scientist, Washington Spectator, and Medtech Insight, among other publications. She lives in New York City.
Oshi is a tracking tool and content resource. It does not render medical advice or services, and it is not intended to diagnose, treat, cure, or prevent any disease. You should always review this information with your healthcare professionals.