By Nancie George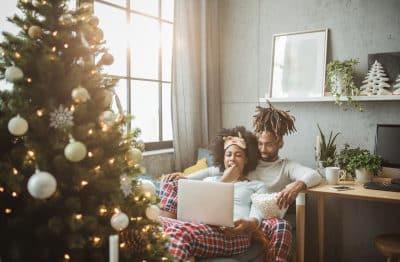 As the holidays near, so begins the season of ugly sweater parties, family gatherings, festive eats and treats, and more seasonal fun. However, the holidays pose some unique challenges for people living with IBD. But we don't have to tell you that.
We asked people living with IBD to share strategies that'll keep their fellow IBDers' spirits bright this time of year.
Give Yourself Some TLC
"I make sure to factor 'down time' into the holidays. Having more social activities than usual can be taxing on your body and mind, so be sure you're scheduling time to rest. I like to have designated self-care nights where I avoid all other plans and snuggle up at home with a face mask and a holiday movie. Still festive but relaxing."
—Michelle Pickens, 27, Baltimore, MD, Instagram: @crohnicallyblonde, Crohn's disease
Think Ahead
"Be proactive with everything from your shopping to what you eat. Try and get as much online shopping done as possible early on so you not only limit your stress, but stay away from all the germs and the crowds.
"Another tip: Before you head to a family or friend gathering eat a small meal so you're not starving and be mindful of staying away from foods that you know are triggers."
—Natalie Hayden, 35, St. Louis, MO, Instagram: @natalieannhayden and Twitter: @nataliesparacio, Crohn's disease
Travel Like a Pro
"I tend to fly quite a bit around the holidays, whether it's for work or for leisure. One thing I always try to do is book an aisle seat on the airplane, relatively close to the bathrooms. This is a no-brainer for me as I don't want to be an inconvenience and have to climb over other passengers to get to the restroom.
"I'll also try and use the restroom as soon as the pilot turns off the 'fasten seatbelt' sign. I figure if I can get to the bathroom right then, that's the cleanest it's going to be all flight!"
—Jordan Wilson, 35, Orange County, CA, Instagram: @The_Real_JMW, ulcerative colitis
Schedule Self-Care Time (Seriously!)
"Before I reached remission in 2017—about 4 years after being diagnosed—I used to dread the holidays with IBD. Even the change in seasons used to stress me right out.
"I've found really ramping up my self-care routine helped me deal with all the commotion. Yoga, getting enough sleep, taking Epsom salt baths (with 2 heaping cups of the salts) really helps relax me."
—Astrid Fox, 48, Vancouver in British Columbia, Canada, Instagram: @healmeinthekitchen, ulcerative colitis
Put Your Health First
"Stick to your diet! The holidays are a time for friends and family, but I need to remember my health has to come first.
"I typically have a hard time when I get out of my routine when I am staying with family or friends. The holidays are not a time for me to slack off on my nutrition and wellness routine. If I'm out of town, I will buy my own groceries, prepare my own snacks or meals, and bake my own "healthy" treats to avoid indulging in something that may cause issues."
—Troy Parsons, 27, Vancouver in British Columbia, Canada, Instagram & Twitter: @FlaredupFitness, Crohn's disease
Know Thyself
"When it comes to diet, my trick here is everything in moderation. It's easy to overindulge during the holidays and at company or family parties. I'll usually eat smaller quantities throughout the day, rather than one gigantic meal. This helps cut down on multiple trips to the bathroom every few minutes. Know what you can eat, and what you should avoid."
—Jordan Wilson
Stick to Your Routine
"The best thing I can do for myself during the holidays: continue my important routines. For example, I make sure I get enough sleep, regularly take my medication and practice safe eating. Safe eating includes moderation, adhering to my usual diet as much as possible and not overindulging. This is key during the holidays when there are so many treats and festive drinks to try.
"It can be so easy to forget our routines during the excitement of the holidays, but it's worth keeping those routines so you can spend quality time with your family."
—Jana Rosenberger, 32, Hellertown, PA, Instagram & Twitter: @gillendor, Crohn's disease
The Bottom Line for Holidays With IBD
Listen to your body and continue to track your symptoms each day so you can stay on top of your health.
Do you have IBD lifestyle tips you want to share with the Oshi community? Email support@oshihealth.com to find out how you could be featured in an upcoming article.
---
Oshi is a tracking tool and content resource. It does not render medical advice or services, and it is not intended to diagnose, treat, cure, or prevent any disease. You should always review this information with your healthcare professionals.