By Natalie Hayden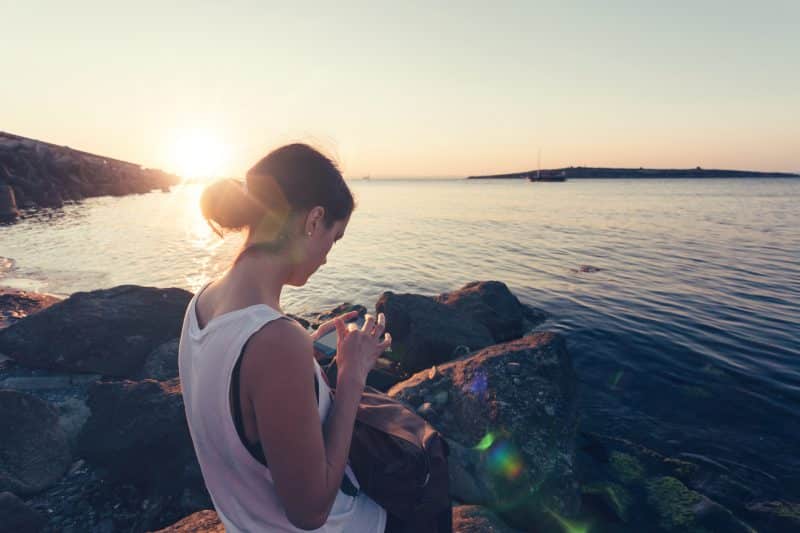 If you would've told me in 2005 when I was diagnosed with Crohn's disease that one day we would have "smartphones" with an app specifically designed to help you track disease symptoms and connect with the IBD community, I would've thought you were nuts! Lucky for all of us, this is a reality when it comes to our patient journeys. For roughly the last year, I've used the Oshi app to stay on top of my health and educate myself about my condition. Here are some of my favorite ways to get the most out of navigating Oshi's technology and tools.
Track as You Go
As much as we hate to admit it, our phones are practically another appendage. So, it's convenient and easy to track daily patterns and try and gain a better understanding of our disease triggers. For me—tracking my daily symptoms, stress levels and diet are priorities.
As a busy mom of two, the days often blur together. It's easy for me to push my symptoms and needs to the wayside as I take care of my family. But, by tracking my symptoms and diet as I go throughout the day, I'm able to see if a flare could be building up or on the horizon, before it's too late. I find that diet plays a key role when I'm symptomatic and by tracking what I'm eating, I'm able to pinpoint which foods are helping or hurting me.
I've noticed that stress is also a major trigger for me. By tracking my stress level before I go to bed, I'm able to give an accurate account of how I felt throughout the day and where I am mentally and emotionally. I simply set my alarm for the next day and then track my stress level on the app—takes a matter of seconds.
Get High-Quality IBD "News"
As a former TV news anchor and reporter, and current blogger, it's no surprise the journalist in me loves the "Learn" section on the app. The articles cover a wide range of topics—from first-person stories to lifestyle hacks to medical breakthroughs—for patients.
Reading the patient-authored articles are especially appealing to me. This is one of the few resources available where the people writing the words are living your reality. You can feel it by the tone of writing and the topics that are covered. This app provides authentic, easily digestible, genuine content. There is no sugar coating our situation. It's news geared directly towards our community. You can think of it as a safe space to educate yourself, feel validated and address your fears and concerns. The articles also show how patients like you and me are thriving and inspiring others. It's those stories that constantly remind me that despite having Crohn's, I'm so much more than my condition.
Connect with the Community
I follow Oshi on Instagram and Twitter. I find social media enables me to stay on the pulse of the latest and greatest going on with the app and the team behind it. Connecting with Oshi on social media is also a way to be alerted of when new articles are released. Oftentimes fellow patients featured in the stories are tagged—which allows me to follow them directly and get connected. It's another great way to build up your virtual community of support.
Prioritize Your Health with Notifications and Updates
We all know that it's one thing to say you're tracking your diet and symptoms—and another to actually follow through. I've found it extremely helpful to receive notifications that remind me I need to track or that a new article is available. With all the apps on our phones these days, it's a reminder to me that I need to check-in for my overall wellbeing. It's much more beneficial for me to track my stress or read an article, than it is to go on Facebook and peruse a bunch of acquaintances highlight reels. It's all about making your health and your patient journey a priority.
Ask an Expert
Navigating IBD can be challenging to say the least. Each patient experience and journey is so unique. We never know what the next day or even hour will bring. As you learn and grow with your illness, chances are you'll have questions. Maybe it's a question you don't feel comfortable asking anyone else. With the Oshi app you're able to submit a question anonymously and have it answered by doctors and experts in the IBD field. Take advantage of it!
Be Your Own Best Advocate
Have you ever frozen up during a doctor appointment and acted as though everything has been fine—even if it hasn't? I know I have. In the long run, downplaying symptoms only hurts us as patients. By communicating with your doctor about what you've been tracking and the tangible evidence it shows—it helps paint a clear picture for your care team so they can pinpoint what tweaks to your lifestyle could keep you out of the hospital and get you into remission. Say an article addresses a topic or issue you have questions about—you can share the article with your GI and get their input and thoughts. The app takes out so much of the guesswork and could play a role in helping to fine tune your IBD treatment.
Feel More Like a Person—Less Like a Patient
Oshi is an invaluable tool, readily available right at our disposal. It's reassuring to me as a patient of nearly 14 years to know I have it in my arsenal to take on Crohn's disease. We all must be our own best advocates. This app empowers us to do that. As you navigate the app, find out what works best for you, what your priorities are, and build it into your daily routine so that health-wise you feel more like a person and less like a patient.
---
Oshi is a tracking tool and content resource. It does not render medical advice or services, and it is not intended to diagnose, treat, cure, or prevent any disease. You should always review this information with your healthcare professionals.