Oshi Health Takes Top Honors at ATA Telehealth Innovators Challenge For Its Proven, Reimbursed Digestive Care Model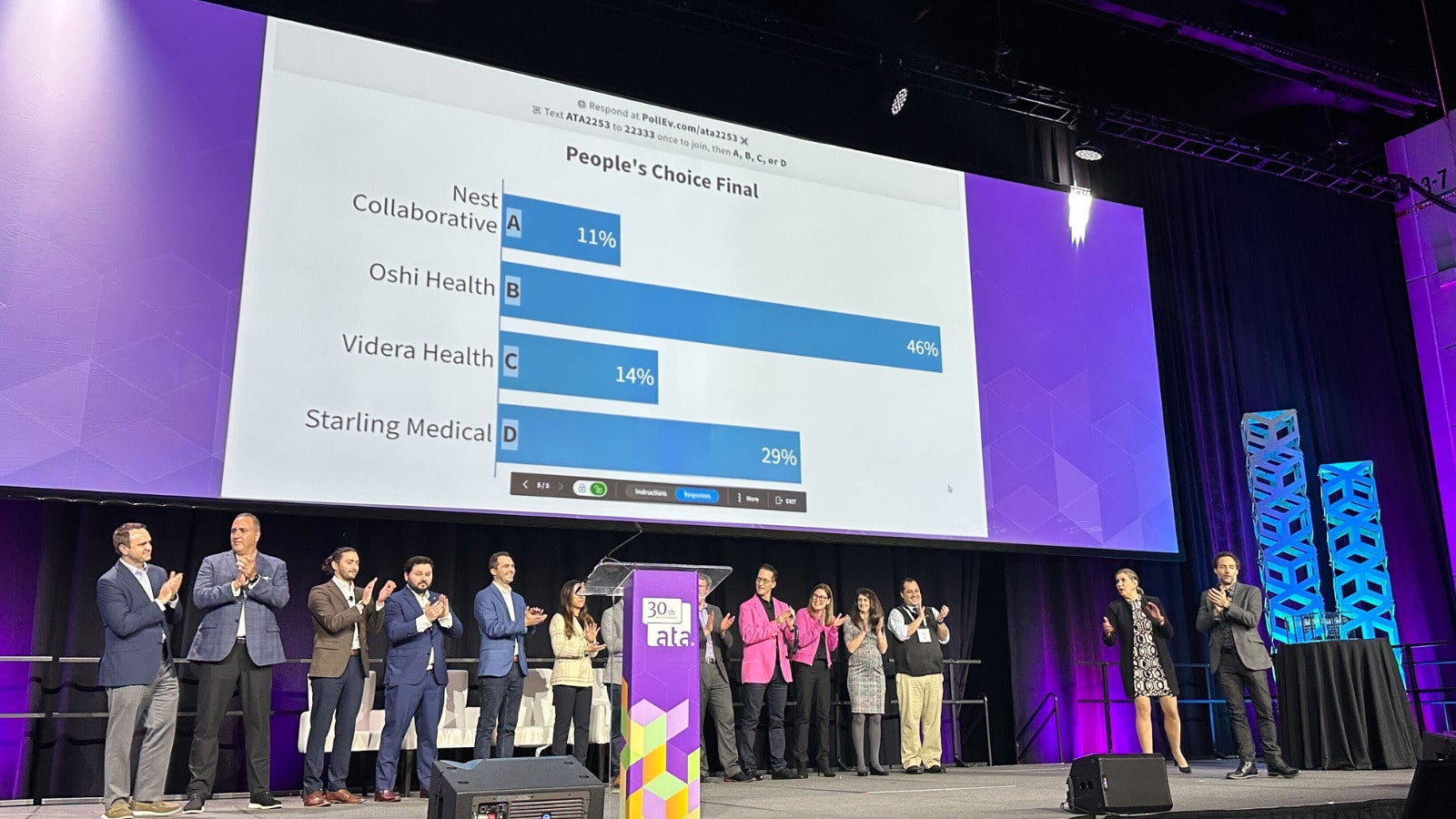 Oshi doubles down with people's choice wins for Best in Show and the Inpatient Care Solutions category; Also co-founder Dr. Sameer Berry named "Top 35 Digital Health Leader" by Slice of Healthcare
New York, NY – March 9, 2023 – Oshi Health, the virtual specialty care company transforming gastrointestinal (GI) health access, outcomes and economics, was named the People's Choice award winner of both the Best in Show and the Inpatient Care Solutions category at the American Telemedicine Association's (ATA) Telehealth Innovators Challenge.
The Inpatient Care Solutions category brought together the top digital solutions for helping patients overcome barriers to access to care. The five key criteria were the novel nature of the solution, its potential to transform current care standards, current availability of the offering, documentation of measurable outcomes, and if the solution is available as a covered benefit by insurers.
"It is especially validating to be awarded multiple honors by an audience of your peers, investors and clinical partners at a competition seeking innovations that are both proven and payer reimbursed," said Sam Holliday, Oshi Health CEO. "Importantly, our category and overall wins represent enormous recognition of the needs of the millions of people in America who have previously lacked access to effective, reimbursed multidisciplinary digestive care."
Oshi Health's virtual multidisciplinary digestive care model makes integrated care teams – including often-neglected dietary and psychosocial interventions – available 24×7 as a covered telehealth benefit. This groundbreaking approach to care is transforming digestive health, conditions that affect 25% of the population and drive significant avoidable costs.
Oshi Health also extends traditional gastroenterology practices in a hybrid collaborative care model that makes evidence-based care accessible to more people.
The company also announced that Oshi Health Chief Medical Officer Dr. Sameer Berry has been named a 2023 "Top 35 Digital Health Leader" by Slice of Healthcare. The designation is awarded annually to the most innovative and influential leaders in the digital health industry.
At the ATA 2023 Annual Conference & Expo, Dr. Berry delivered two-well received presentations, including one as part of a panel discussion on the future of digital medicine coding, coverage and payment. In addition, he shared the results of a recent Oshi Health clinical trial with a national payer that found after six months of multidisciplinary care, 98% of patients were satisfied with treatment, 92% demonstrated symptom improvement, and participants achieved savings of $10,292 per patient through avoidable imaging, reductions in unnecessary prescription drug use, and fewer emergency room visits.
About Oshi Health
Oshi Health is a completely redesigned digestive health care experience that transforms access to care, the patient experience, clinical outcomes and healthcare economics. In a high-touch virtual care delivery model, Oshi Health provides diagnosis and integrated care for digestive conditions and empowers people to achieve lasting control of their symptoms. Launched in 2020, Oshi Health works with innovative employers, health insurance partners, health systems and community GI practices to scale access to multidisciplinary care, reduce healthcare costs, and improve the lives of millions of Americans with chronic gastrointestinal diseases. For more information, visit www.oshihealth.com.