Oshi Health names Dr. John Allen to medical advisory board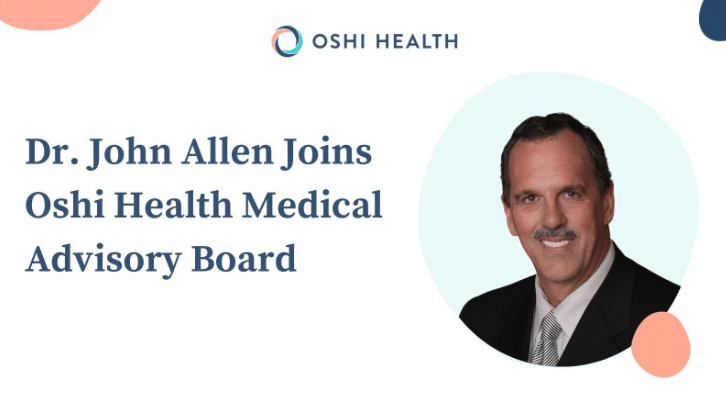 Internationally respected gastroenterologist and past President & Chairman of American Gastroenterological Association will help guide growth and expansion of digital digestive care provider
New York, NY – June 21, 2022 – Oshi Health, the virtual specialty care company transforming gastrointestinal (GI) health outcomes and economics, today announced that John Allen, MD, MBA, AGAF has joined its medical advisory board.
An internationally renowned gastroenterologist and leader in the field who built one of the largest private practices in the United States, Dr. Allen has recently retired as the Chief Clinical Officer at the University of Michigan Medical Group and has been a past President & Chairman of the American Gastroenterological Association (AGA). He will apply his deep experience and expertise to help Oshi Health continue to expand its innovative, virtual-first care delivery protocols.
"Traditional GI practices are under intense pressure with more people seeking medical help, changes in payment and technology models, and fewer available physicians," said Dr. Allen. "The future of GI care requires collaboration between traditional practices and digital-first providers like Oshi Health that can deliver whole-person care protocols and deep, data-driven insights. Together, I believe they can better serve the needs of today's patients in a way that aligns with the principles of value-based care for our specialty."
Prior to serving as the Chief Clinical Officer at the University of Michigan Medical Group and as a Clinical Professor of Medicine at the University of Michigan Medical School, Dr. Allen was the Clinical Chief of the GI Division at Yale University School of Medicine and Quality Committee Chair and member of the Governing Board at Allina Hospitals & Clinics in the Twin Cities of Minnesota. Prior to his tenure at Yale, he was the Chief Medical Officer at Minnesota Gastroenterology, P.A.
In addition to his past roles as the President & Chairman of the AGA, he continues to serve as the organization's secretary and treasurer. Dr. Allen was also an editor for Practice Management for Clinical Gastroenterology and Hepatology, a leading scientific journal for gastroenterologists.
"We are honored to welcome Dr. Allen to the Oshi Health family," said Oshi Health CEO Sam Holliday. "He is a highly respected and distinguished leader in the field who has contributed to this specialty from nearly every conceivable perspective. His insights and guidance have already proven invaluable as we continue to scale and build relationships with clinical leaders across the country."
Oshi Health's integrated GI care model provides effective relief through evidence-based, whole-person care — including often-neglected dietary and psychosocial interventions — and can quickly achieve a diagnosis and guide individualized treatment.
Patients connect with specialized providers via telehealth visits, their care plan is continuously informed and refined by their symptoms, food and bowel movement monitoring, and a health coach provides daily messaging and support to make sustainable lifestyle changes.
Oshi Health members often achieve symptom control within 90 days and 91% of members report that Oshi Health helped them improve their quality of life.
About Oshi Health Inc.
Oshi Health is a completely redesigned gastrointestinal care experience. Its virtual, patient-centered care delivery model is built to provide diagnosis and multidisciplinary care for GI conditions, and to empower people to gain significant and lasting control of their symptoms and improve their quality of life. Oshi Health works with innovative employers and health insurance partners to scale access to their employees and members as a covered benefit, in turn, reducing overall healthcare cost and improving productivity in life and at work. Oshi Heath was launched in 2020 to improve the lives of people with gastrointestinal diseases. For more information, visit www.oshihealth.com.