Oshi Health adds distinguished physician-scientist and upcoming AGA President Dr. Maria T. Abreu to medical advisory board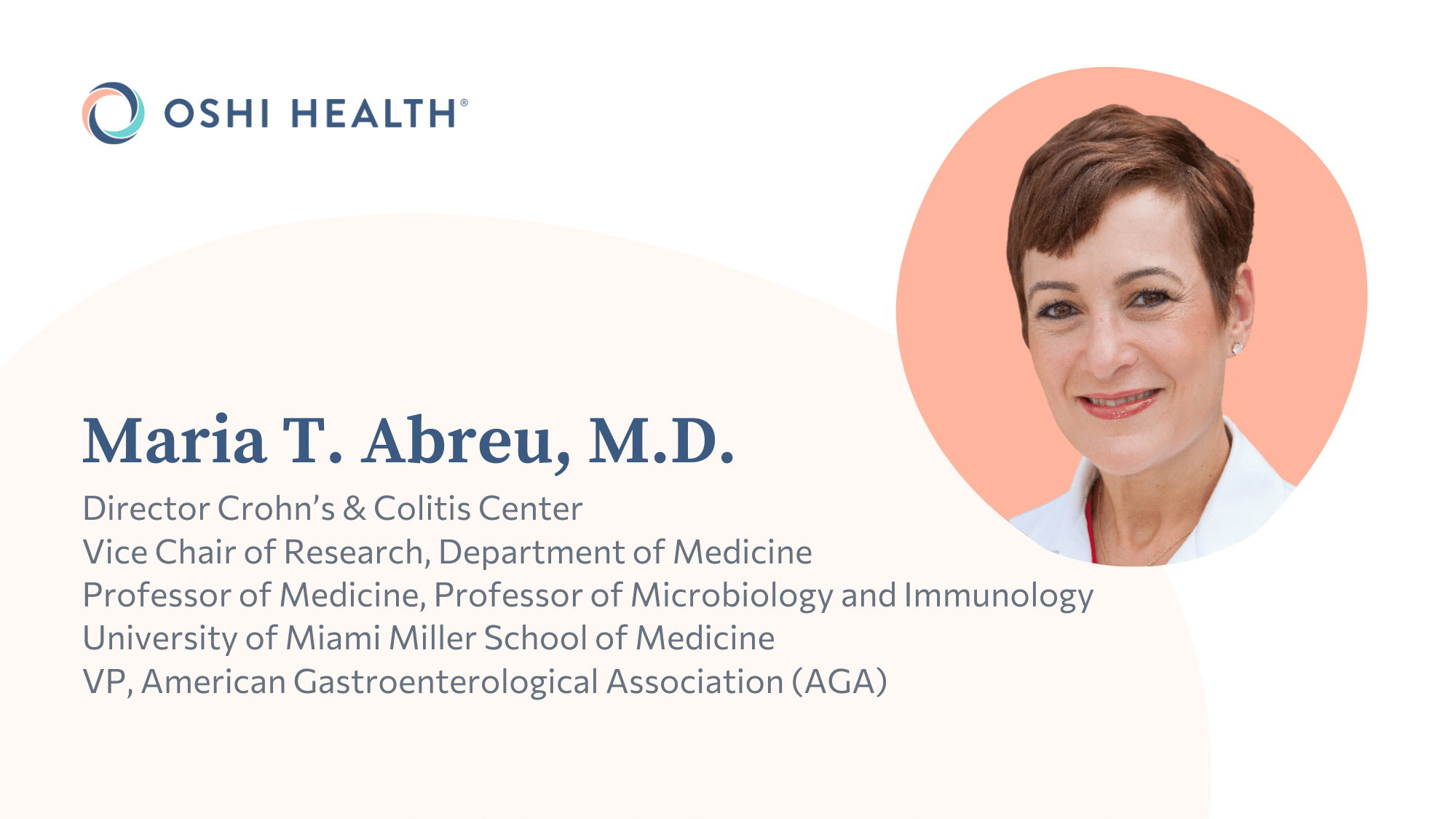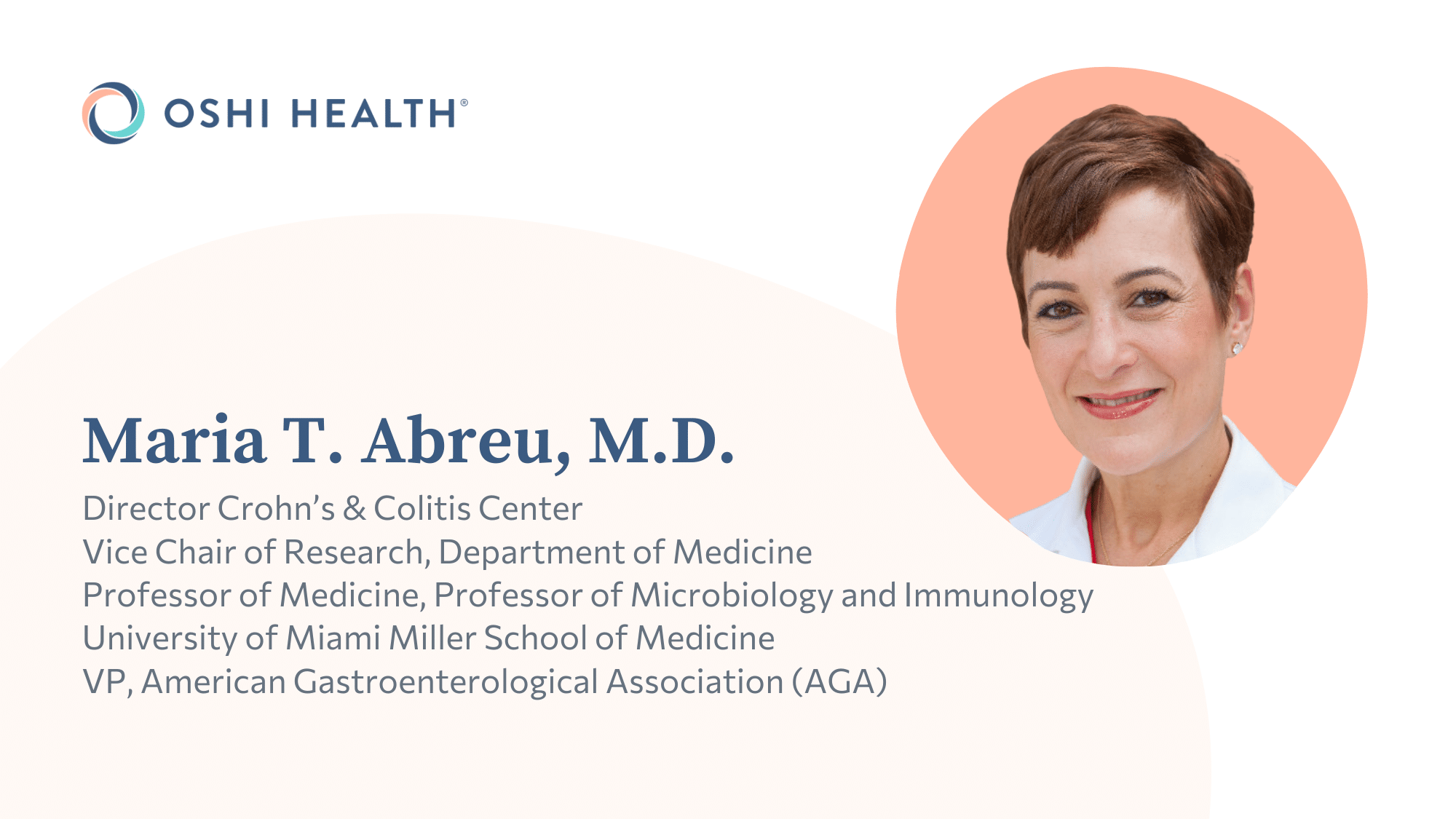 Expert in inflammatory bowel disease (IBD) will expand Oshi's multidisciplinary digestive health protocols from the front lines of IBD research and care
DENVER – Crohn's and Colitis Congress – Jan. 19, 2023 – Oshi Health, the virtual specialty care company transforming gastrointestinal (GI) health outcomes and economics, today announced that Dr. Maria T. Abreu of University of Miami's Miller School of Medicine and upcoming President of the American Gastroenterological Association (AGA) has joined its medical advisory board.
Dr. Abreu is an internationally renowned physician-scientist. The Abreu lab at the University of Miami has focused on the relationship between the host innate immune response and the microbiome in perpetuating IBD and its complications. Her laboratory leads pioneering research into the genetic and environmental factors that contribute to the development of IBD, including the first description of the phenotype in Hispanic patients and characterizing the genetics of their disease, as well as building one of the largest biorepositories of tissue specimens that has already supported significant research advances.
Dr. Abreu is most known for leading groundbreaking IBD research in Miami's Hispanic population aimed at understanding the rising epidemic of disease in today's first-generation immigrants, who are developing IBD much more quickly than previous generations. Her team has recently received an NIH grant to look at the genetic architecture of Hispanic people with IBD. As a result of her interest in modifying the risk of IBD and improving quality of life in patients, her team has embarked on a landmark study combining diet intervention with behavioral psychology approaches to change the way IBD patients and their families eat. These studies have implications for a wide IBD patient population.
"Understanding and treating IBD requires looking at everything going on with a patient, as an interconnected whole. The desire to help individual IBD patients in a comprehensive way is challenged by insufficient time and resources by most clinicians. If we want to change the course of IBD on a larger scale, we need to be able to offer multidisciplinary, integrated, high-quality care. Oshi Health has demonstrated its commitment to a data-driven approach that uses integrated care delivery models to reduce costs and improve outcomes," said Dr. Abreu. "Together we can drive better outcomes for patients which, in turn, will allow investing resources into the things that patients care about such as living a predictable, normal life, having families, and going to work. Our patients don't want to have visits to the ER or the hospital. They want a knowledgeable health team that will be proactive in their care."
As a virtual multidisciplinary digestive care clinic, Oshi Health extends community GI practices coping with long wait times for appointments and overwhelming demand from patients by delivering high-touch support and addressing ancillary concerns like mental health, nutrition, and care plan questions, so that practices can focus their capacity on delivering necessary in-person care. Patients have access to a team of GI-specialized professionals including gastroenterologists, nurse practitioners, licensed psychologists, social workers, dietitians, and health coaches that support behavior change and care plan compliance.
By delivering clinically appropriate interventions through the convenience of telehealth and digital tools, Oshi Health empowers people to understand their condition and triggers, and reclaim their lives from chronic debilitating symptoms. Ninety-one percent of Oshi Health members achieve symptom control in 4 months or less, in turn, driving a 98% member satisfaction level.
"I am thrilled to partner with Dr. Abreu to build a world where every single patient with IBD has access to comprehensive, evidenced-based, multidisciplinary GI care," said Dr. Sameer Berry, Chief Medical Officer of Oshi Health. "She has the rare combination of research and clinical expertise in IBD, along with a pragmatic approach to building the future of care delivery in gastroenterology. I am most excited to partner with Dr. Abreu on designing culturally-informed care protocols to care for traditionally marginalized patient populations, who would benefit most from access to multidisciplinary care."
Dr. Abreu is widely known as one of the foremost experts in IBD. She has authored more than 300 peer-reviewed publications and trained many gastroenterologists who are leaders in their respective subspecialities. She is the Director of the Crohn's and Colitis Center at the University of Miami, the past chair of the International Organization for the Study of Inflammatory Bowel Disease (IOIBD), and recipient of the prestigious 2019 Sherman Prize – an award given to the nation's preeminent IBD researchers. Dr. Abreu was recently elected Vice President of the American Gastroenterological Association (AGA) and will assume the role of President in 2024 to lead more than 16,000 gastroenterologists in the U.S.
Dr. Abreu joins fellow Oshi Health advisory board members Gil Melmed, MD, MS, of Cedars-Sinai in Los Angeles, and Dr. John Allen, retired Chief Clinical Officer at the University of Michigan Medical Group and past President & Chairman of the American Gastroenterological Association (AGA).
About Oshi Health
Oshi Health is a completely redesigned digestive health care experience that transforms access to care, the patient experience, clinical outcomes and healthcare economics. In a high-touch virtual care delivery model, Oshi Health provides diagnosis and integrated care for digestive conditions and empowers people to achieve lasting control of their symptoms. Launched in 2020, Oshi Health works with innovative employers, health insurance partners, health systems and community GI practices to scale access to multidisciplinary care, reduce healthcare costs, and improve the lives of millions of Americans with chronic gastrointestinal diseases. For more information, visit www.oshihealth.com.