By Erica Patino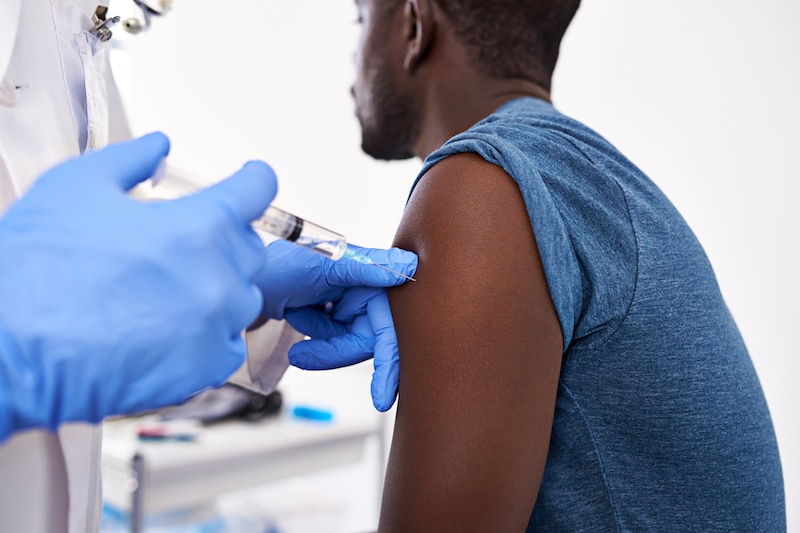 Medically reviewed by Jenny Blair, MD
When you're living with inflammatory bowel disease (IBD), you know you always need to be a step ahead to stay healthy, since the chronic inflammation characteristic of Crohn's disease and ulcerative colitis can take a toll on your body. But is getting the influenza vaccine, or flu shot, going to help or harm your IBD? Here, we offer some facts about the flu shot, and clear up some common misconceptions about the annual vaccine.
Myth: Getting the flu shot can weaken your immune system if you have IBD.
Because IBD already alters your immune system, it's understandable that you may have concerns about what the flu shot might do. But IBD patients are at a 30% higher risk for flu, and a flu shot provides some protection.
"Many people with IBD are on medicines that further suppress the immune system, which increases their risk of developing influenza and other infections that might require hospitalization," says Francis A. Farraye, MD, MSc, a senior associate consultant in the department of Gastroenterology and Hepatology at the Mayo Clinic in Jacksonville, Florida. Dr. Farraye is also co-director of the Inflammatory Bowel Disease Center at the Mayo Clinic.
Fact: People with IBD are at increased risk of pneumonia, which can be caused by the flu.
Another reason it's important to get the flu shot: If you have IBD, you're already at a higher risk of getting pneumonia—which is commonly caused by the flu.
"IBD patients, especially those on medications that affect the immune system like steroids, thiopurines, methotrexate, biologics and other advanced therapies, are at higher risk of having pneumonia and at higher risk of having severe pneumonia," says Aline Charabaty, MD (Twitter: @DCharabaty), director of the Inflammatory Bowel Disease Center at Sibley Memorial Hospital in Washington, DC, and an assistant professor of medicine at Johns Hopkins School of Medicine.
Myth: Getting the flu shot will cause a flare of IBD.
This is a common misconception among people with IBD, Farraye and Charabaty say. However, the flu shot and other vaccines won't cause your IBD to flare. A February 2019 study published in the journal Inflammatory Bowel Disease found that steroids are the only IBD medications associated with flu risk.

Fact: If you do develop the flu, you may need to stop taking your IBD meds temporarily.
Getting the flu can be tough on anyone, but for people with IBD, it can be even worse: According to the aforementioned Inflammatory Bowel Disease study, people with IBD who develop the flu were more likely to require hospitalization than those who didn't have IBD. And if you do get the flu, your doctor may need to pause some IBD medications, since they affect your immune system.
"But when we hold the medication for a while, then your IBD can flare," says Charabaty. "We don't want you to get severely sick and have to hold medications that are controlling the IBD." Getting some flu protection should reduce your risk of facing this dilemma.
To be clear, Charabaty adds, there is no need to pause IBD medications for the flu shot.
"Patients with IBD can receive the flu shot even if they are on medications that affect the immune system," Charabaty adds. "Actually, these patients absolutely need the flu shot, since they are at higher risk of pneumonia."
Myth: The flu shot is a live vaccine.
Many people with IBD have heard that they aren't supposed to get a live vaccine. This is true. According to the American College of Gastroenterology (ACG)'s clinical guidelines on vaccinations, which Dr. Farraye co-authored, all adults with IBD, regardless of whether they are on an immunosuppressive medication, should receive non-live vaccines—including the flu shot, pneumococcal vaccine and others. This means avoiding nasal spray flu vaccines, which do contain a weakened but live flu virus.
However, the typical injected flu vaccine is not live, and is considered safe for most people with IBD to receive. One exception is if you have an allergy to the flu shot.
What does allergy mean? "Not a side effect, like a sore arm, but a true allergic reaction, meaning trouble breathing or swelling, which is very rare," says Charabaty.
The ACG guidelines recommend that all adults with IBD get an annual flu shot.
Fact: It's best to get the flu shot as soon as it's available.
Flu shots first become available in autumn, before the flu season starts. "As it is impossible to predict when flu season will begin, I recommend that people receive the vaccine when available in September or October," says Farraye.
Getting a flu shot in the fall also helps give your body time to build immunity before flu season peaks, most often in February, but sometimes as early as December. "Because the whole point is to prevent being sick—you don't want to wait until the middle of flu season," says Charabaty. "You don't want to wait until it's the middle of winter and everyone around you has the flu."
That being said, getting the flu shot later in the season is still better than not getting it at all.
Myth: Even if you do get the flu shot, it's not going to work as well if you have IBD.
Although IBD and the medications used for it do affect your immune system, the flu vaccine still leads to an immune response in the majority of patients, just as it does in people without IBD.
"The flu vaccine in IBD patients who are not on immunosuppressive agents has similar efficacy compared to the general population," says Charabaty. Most patients taking anti-TNF biologics, like infliximab, develop immunity against the flu after the vaccine, too. Though there are fewer data available on newer biologics, we can expect similar or higher success to what we see with anti-TNF agents, she explains.
Patients taking both anti-TNF agents and thiopurines, such as azathioprine or mercaptopurine, have a decreased response to the flu vaccine. But it's still recommended for them.
It's also a good idea to encourage others in your household to get the flu vaccine so that they—and you—will be further protected. Herd immunity helps protect those people in a group who are more susceptible to an infectious disease, like influenza.
"If your spouse, partner, kids or parents get the flu, you're more likely to get the flu," Charabaty adds. "That is why it's so important for everyone else to also get the flu vaccine to protect those around us with a compromised immune system."
For most IBD patients, the flu vaccine is safe, effective, and a recommended step to take each year.
---
Jenny Blair is a writer and journalist covering science, medicine, and the humanities. She earned her MD at Yale University, then completed a residency in emergency medicine at the University of Chicago. After several years in practice, she transitioned to working with words and ideas full-time. Jenny has contributed to Discover, New Scientist, Washington Spectator, and Medtech Insight, among other publications. She lives in New York City.