By Kristen Sturt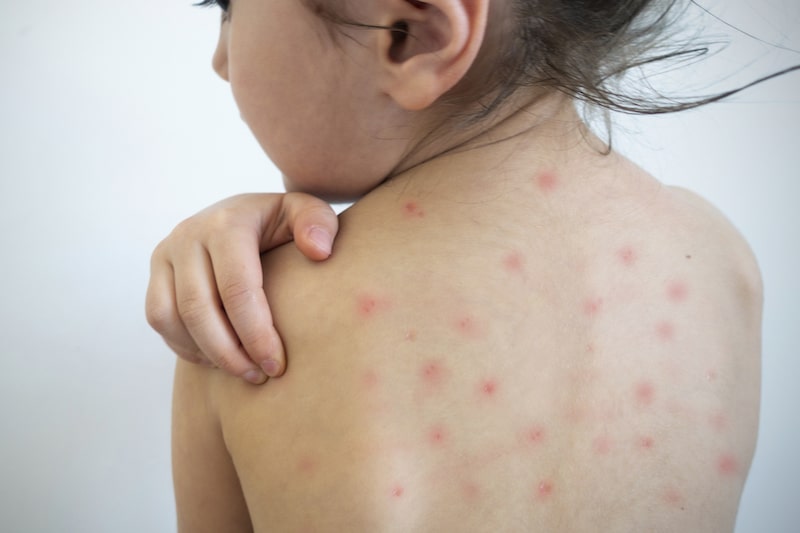 Medically reviewed by Matthew J. Hamilton, MD
It's been a banner year for measles. Though the disease has been considered eliminated in the United States since 2000, more cases were reported in the first five months of 2019 than in any year since 1992. This is due in large part to vaccination refusal; many Americans skip or delay necessary immunizations because of misconceptions about their safety and efficacy.
Measles' resurgence is particularly dangerous for certain groups of people, including those with inflammatory bowel disease (IBD). People with IBD, especially those on immunosuppressive medications are more susceptible to catching measles and vulnerable to serious health issues related to the illness. Complicating matters, "IBD patients do have lower vaccination rates compared to the general public," says Sharmeel K. Wasan, MD, a gastroenterologist at Boston Medical Center in Massachusetts. This is due in part to vaccine concerns, as well as a lack of clarity among healthcare providers (HCPs) about providing the immunizations.
With that in mind, here's what IBD patients should know about measles—the symptoms, complications and most of all, how to keep from contracting the disease.
What Is Measles?
Measles is an acute respiratory illness. Transmitted mostly through coughing and sneezing, it's extremely contagious; up to 90 percent of those without immunity will develop it after being around an infected person. Most US measles cases are caused by unvaccinated international travelers, as it's still a common illness in many places around the world.
Symptoms show up about one to two weeks after exposure, and often start with a fever, cough, runny nose and inflamed eyes. White spots may appear on the tongue two or three days later. After that comes the measles' characteristic red rash, which typically begins on the head and extends downward to the rest of the body. People are contagious from four days before the rash develops to four days afterward.
Complications of measles include ear infections, diarrhea, severe respiratory infections, and occasionally, a brain swelling called encephalitis. Pregnant women with measles are more likely to miscarry. It's thought a quarter of Americans with measles will be admitted to a hospital, and 1 to 2 of every 1,000 cases will die.
Measles is especially problematic for people with IBD because they have a greater risk of contracting vaccine-preventable diseases in general—particularly if they're on immunosuppressant medications, which many use to control their condition. What's more, IBD patients have a higher risk of severe complications and may be sicker, longer.

Why IBD Vaccination Rates Are Lower
For people with or without IBD, receiving the measles, mumps and rubella (MMR) vaccine is the best way to prevent measles, hands down. "Even one MMR vaccine is 93 percent effective against the virus," says Dr. Wasan. Still, some IBD patients aren't up-to-date with vaccinations.
Research shows that in addition to safety and side effect fears, some are concerned the vaccine will exacerbate their IBD, despite evidence to the contrary. Other factors include inconvenience or lack of awareness about the importance of immunization. Confusion plays in, as well. Studies have found there's often an uncertainty among patients and doctors about who should administer and keep track of vaccinations.
"Although they often see both a gastroenterologist and a PCP," says Wasan, "it is not always clear to providers who will be providing specific elements of preventative care in these patients."
The Rules of IBD and Immunization
Needless to say, if you haven't already been, "it is super important for an IBD patient to be vaccinated for measles," says Wasan. The same goes for family members and anyone who regularly interacts with IBD patients.
For the general public, that means following the Centers for Disease Control and Prevention's (CDC) vaccination guidelines. The measles vaccine is typically given as part of the "MMR" series at around age one and four years of life. Most individuals retain their immunity to measles but a standard blood test can be checked at any point to see if you are still immune to the virus. It is important to know that the vast majority of individuals who received the vaccine are immune to measles but you could consult the CDC website or your HCP if you have any questions. The screening recommendations typically apply to IBD patients who don't plan on starting immunosuppressive drugs for six weeks—and who have not been on them during the previous three months. However, everyone should speak with their HCPs about what's best for them.
The rules are different for IBD patients already on immunosuppressant drugs, like steroids or biologics. "Persons on most forms of immunosuppression cannot receive the MMR vaccine because it is a live virus," says Wasan, which influences the risk of infection. Therapy should stop at least three months before receiving the vaccine, though delaying it may be necessary, as active IBD treatment takes precedence, according to the American College of Gastroenterology.
Whether or not you have IBD, there are special MMR vaccine considerations for pregnant women and those traveling internationally. Again, speak with your HCP for more information.
Tips for Dealing with Providers
The best time to bring up vaccinations is when you're initially diagnosed with IBD, says Wasan, "at the very first visit in the office." Your HCP can audit your immunization history and administer necessary vaccines before immunosuppressive therapy begins. They can also answer questions, and keep you up-to-date about vaccine necessity and safety.
Ideally, moving forward, your primary care physician and gastroenterologist should co-manage your regular health maintenance. Make sure they communicate with each other regarding your unique needs and tracking your immunizations. Yearly reviews of your vaccinations is a good idea, as well.
Ultimately, the best way of preventing measles is being proactive. Learning about and receiving the right vaccines goes a long way toward protecting your health.
Medical reviewer and Oshi physician-partner Matthew J. Hamilton, MD is an Assistant Professor of Medicine at Harvard Medical School and a specialist in Gastroenterology, Hepatology, and Endoscopy at Brigham and Women's Hospital Crohn's and Colitis Center in Boston. He is a leading member of the research team at the BWH Crohn's and Colitis Center, and has garnered national recognition for his research into the underlying inflammatory processes of IBD.
Oshi is a tracking tool and content resource. It does not render medical advice or services, and it is not intended to diagnose, treat, cure, or prevent any disease. You should always review this information with your healthcare professionals.