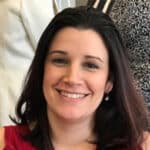 By Jana Rosenberger
We all know that having IBD means you'll likely spend a lot of time in the bathroom. It just comes with the territory. So, I wanted to share a few things that have made those endless trips to the bathroom a lot more livable.
Use Pre-potty Spray
Let's be honest, you gotta go when you gotta go and it never smells like roses. Don't worry, I got your back!
Toilet sprays are perfect for those occasions when you need to use a public restroom or you want to be as discreet as possible. No one has to know you went #2!
How it works: A pre-potty spray acts as a scent barrier and locks in unpleasant smells below the waters' surface. Meaning, if you spray before you go, you never have to smell your own poo-poo and neither does anyone else for that matter. Once you flush, you're left with the pleasant aroma of the toilet spray. And it actually works, unlike most air fresheners.
My picks: I highly recommend using Fresh Drop or the ever-popular Poo-Pourri. I especially enjoy the variety of scents available with Poo-Pourri.
I also love their refillable glitzy spritz container for travel and on-the-go purposes. It looks like a purse-sized perfume spray. No one would ever know it's for the toilet.
The best part: I can use the bathroom without worrying about the embarrassment factor. It's so nice not having the added stress of being self-conscious. It also makes a big difference on my mood when I'm not surrounded by unpleasant smells all the time.
Put a Phone Mount on Your Bathroom Wall
Okay, don't laugh! I know I'm not the only one that likes to take their phone into the bathroom! For those long hauls in the bathroom, this hack is extremely helpful.
How it works: Pick your surface, attach your mount to said surface and you're done. You don't have to worry about holding your phone, you know it's not going to fall into the toilet, and it's like having a mini TV in front of you. Brilliant!
My pick: I like the PopSockets mount since it's small, inexpensive and easy to install almost anywhere. Plus, I already had the PopSocket on the back of my phone.
The best part: Watching a video helps distract your mind from what's really going on! Why not catch up on some funny YouTube videos or your favorite Netflix show? I'm telling you, this tiny TV mount works wonderfully. And after having dropped my phone in the toilet not once but twice, I can safely say this bathroom hack is a life saver.
Apply Moisturizing Hand Soap
Frequently using the bathroom means washing your hands a lot; which unfortunately leads to dried out hands.
How it works: Pick a moisturizing hand soap helps add a hydration back into your skin while you're cleaning up.
My pick: I like getting a soap that has aloe vera in it, like the Mrs. Meyers hand soaps. Then if my hands still need more TLC, I will use a good lotion. However, I'm using significantly less lotion since switching out my soap.
The best part: Yes, this is such a simple tip, but most people don't even think about their hand soap. I certainly didn't until I realized I was washing my hands close to 20 times a day.
Reach for Cooling Butt Wipes
This tip is specifically for those of you that experience diarrhea-like symptoms. Maybe you get a lot of rear-end irritation, like the feeling that your bum is on fire. Yeah, I said it. We have all experienced that burning sensation at least once in our life and it's extremely uncomfortable.
How it works: Enter cooling butt wipes. All it takes is one of these medicated wipes applied to the affected area and boom! Instant cooling relief. If it doesn't take my discomfort away completely, it will take it down to a much more manageable level.
My pick: Since I discovered Tucks cooling pads, I haven't had an issue with the butt burn. Guys, it's like magic!
The best part: I'm so thankful for discovering this product. I can't live without it now. It's definitely a best kept secret item.
IBD has a not-so-pretty side that takes place in the bathroom. There's no changing that, but there are a few work-arounds. I hope these bathroom life hacks added a couple new things to your bag of tricks.