By Kristen Sturt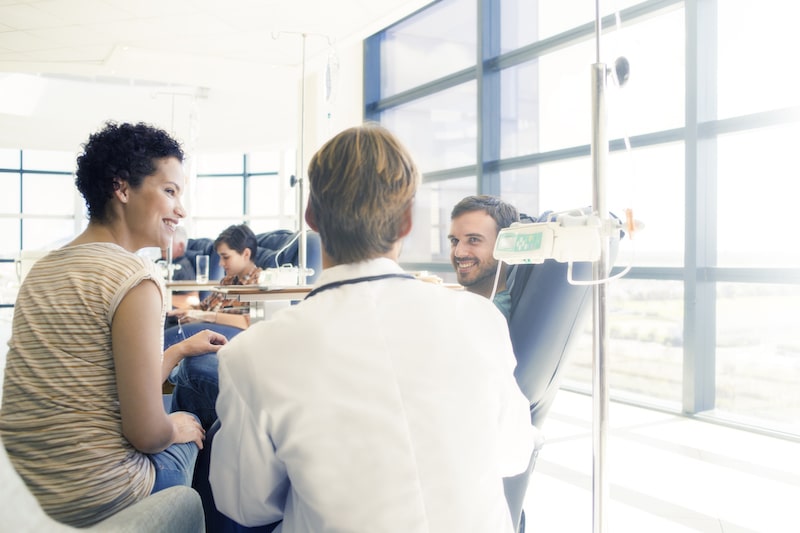 Medically reviewed by Matthew Hamilton, MD
A common medication given to people with inflammatory bowel disease (IBD), vedolizumab is known to many in the United States by its brand name, Entyvio. It's part of a powerful class of drugs called biologics, and healthcare providers rely on it to ease symptoms, achieve remission and keep disease in check. Entyvio is effective and has been approved for patients with either moderate to severe ulcerative colitis (UC) or Crohn's disease (CD).
If you're considering Entyvio, take these facts into account first.
1. It targets inflammation in the gut.
Entyvio is an integrin receptor antagonist, which work differently from some other biologics. Instead of affecting the entire body, anti-integrins head for the lining of the gastrointestinal tract. There, they keep inflammatory white blood cells from getting in that may trigger or perpetuate active IBD.
2. Entyvio is often prescribed when other drugs don't work.
It's frequently offered to patients who never responded to, stopped responding to or couldn't tolerate a different IBD medication. It's also used after a flare, for those who can't come off corticosteroids without symptoms reappearing.
3. It's an initial biologic therapy option, too.
In some cases of either UC or CD, providers will try Entyvio before other biologics. "For Crohn's disease, we consider biologics early and appropriately for the right patient," says Anita Afzali, MD, MPH, medical director of the Inflammatory Bowel Disease Center at Ohio State University's Wexner Medical Center in Columbus. If there's a high risk of Crohn's progressing, she explains, Entyvio can be especially helpful for getting a handle on it.
4. Your health insurance company has a say.
While your disease status and provider's recommendations are important, your treatment with Entyvio is often partly dependent on insurance. "I would love to say that it's all in the prescriber's hands," says Dr. Afzali. But, she explains, coverage frequently dictates which IBD medications can be offered to any given patient. "Insurance becomes the tremendous limiting factor of when and why."
5. Entyvio is given intravenously.
It's administered via infusion at a medical facility; the process takes about 30 minutes. To help induce remission, patients will receive a starting dose, a second dose at two weeks, and a third dose four weeks later. Afterwards, doses are usually about eight weeks apart. While many with IBD feel noticeably better at six weeks, it can take around three months for others—and for some, Entyvio may not work at all.
6. It's one of the more benign biologics.
"Typically, Entyvio is well-tolerated with probably one of the better safety profiles," says Afzali. "Usually, side effects are uncommon." The most frequently experienced are colds, headaches, joint pain, nausea and fever. Allergic reactions are rare, but seek medical attention if you have breathing problems, swelling, skin issues or an increase in heart rate.
7. Entyvio doesn't always work solo.
Combining it with another medication, like an immunomodulator, may be more successful. This is for two main reasons, says Afzali:
The immunomodulator can help Entyvio work better, especially in patients who aren't responding to other biologics. In this case, she explains, "You're just trying to optimize your chances of them responding to some treatments."
It may help control symptoms outside of the intestines that are related to the IBD, like joint pain or a skin condition.
Of note: Though Entyvio can also be paired with corticosteroids or antibiotics, it's not typically paired with other biologics.
8. Some patients should consider other options.
People with IBD should let their team know about current prescriptions and pre-existing conditions. Compared to other biologics, vedolizumab generally has fewer limitations on who can use it, but those with tuberculosis or certain chronic infections may receive a different treatment.
Give your provider a heads up, too, if you're pregnant or nursing. Make sure to discuss your immunization history, as well; if you're not up-to-date, you may need certain vaccinations before starting.
9. You can use Entyvio for years.
"The rule for all of our biologics is: You should be on it for as long as it's working," says Afzali. Most IBD patients have routine checkups to keep tabs on their condition. If Entyvio loses efficacy—perhaps you develop a resistance, or your disease progresses—alternate treatment may be needed.
10. Staying on medication is crucial.
You shouldn't discontinue Entyvio—or any IBD drug, really—just because symptoms ease up. "Adhering to therapy means we not only deal with the current active symptoms or issues," says Afzali, "but we also reduce the risk of disease progressing in the future." Since both UC and CD are chronic illnesses, your health and quality of life depend on continuing treatment.
DISCLOSURE: Dr. Afzali has reported relationships with the following companies: Celgene Corporation, Pfizer, Inc., Takeda Pharmaceutical Company, IBD Horizons, UCB Pharma, AbbVie Inc., and Janssen Biotech.
Medical reviewer and Oshi physician-partner Matthew J. Hamilton, MD is an Assistant Professor of Medicine at Harvard Medical School and a specialist in Gastroenterology, Hepatology, and Endoscopy at Brigham and Women's Hospital Crohn's and Colitis Center in Boston. He is a leading member of the research team at the BWH Crohn's and Colitis Center, and has garnered national recognition for his research into the underlying inflammatory processes of IBD.
Oshi is a tracking tool and content resource. It does not render medical advice or services, and it is not intended to diagnose, treat, cure, or prevent any disease. You should always review this information with your healthcare professionals.