By Kristen Sturt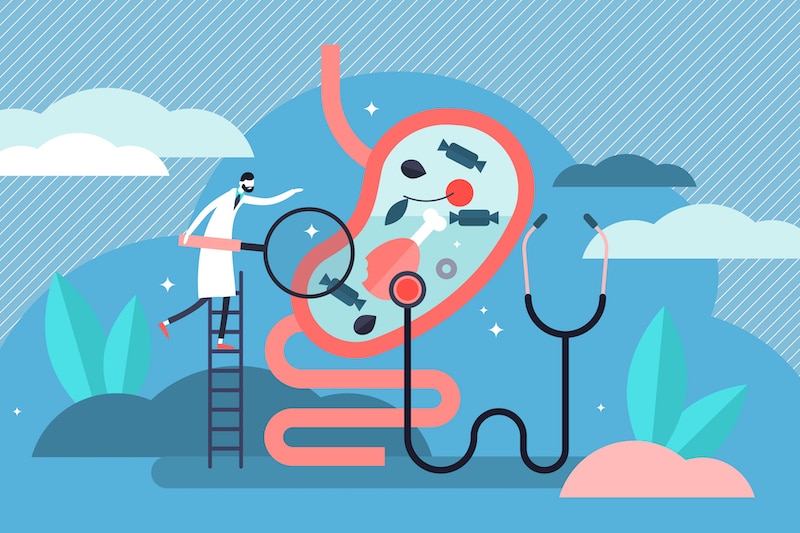 Medically reviewed by Shannon Chang, MD
From blood draws to endoscopies, medical tests are a fact of life for people with inflammatory bowel disease (IBD). One of the most common is the fecal calprotectin test (FCT), a stool test used to gauge intestinal inflammation. An FCT can assist with initial diagnosis, and in patients with known IBD, it's a valuable tool for tracking disease activity and predicting the course of illness.
"It's important to monitor patients, even in clinical remission, to make sure inflammation isn't brewing," says Charles McMahon, MD, a gastroenterologist at Loyola Medicine in Maywood, Illinois. "The test itself can give many effective clues as to when further testing—and thus adjustment of medical therapy—might be needed to maintain that remission."
Understanding the FCT Test
When the lining of your intestines becomes inflamed, white blood cells called neutrophils rush to the region of inflammation. There, they release a protein called calprotectin, which eventually makes its way into your stool. By calculating your stool's calprotectin levels, healthcare providers can detect and evaluate the severity of your inflammation.
Calprotectin is measured in micrograms per gram (mcg/g). Though there's variation among laboratories, coming in below 50mcg/g is widely considered normal. Going above 120mcg/g is often judged abnormal, and the higher the number, the worse the inflammation. "Between 50 and 120 it's about borderline," says Bincy Abraham, MD, a gastroenterologist with Houston Methodist in Texas. "If so, you might want to re-evaluate or re-test the patient sooner."
Someone with significant inflammation of the colon will typically have higher calprotectin levels than someone with an inflamed small intestine, says Dr. Abraham. For that reason, she adds, "It could be more beneficial for patients who have ulcerative colitis or Crohn's colitis compared to someone with isolated, small-bowel Crohn's disease."
For IBD patients, an FCT may be ordered during a flare or in periods of remission. During a flare, it can help assess worsening inflammation and may help assess if medication is effective. During remission, it helps monitor your condition and can even identify subclinical inflammation—in other words, inflammation not yet causing obvious symptoms. Based on FCT results, providers can adjust treatment as needed and perhaps avoid future complications.
However, both Abraham and McMahon emphasize that FCTs must be used with other tests. "Blood tests, other stool tests, radiologic imaging—primarily CT scan and MRI—are still used extensively to diagnose and monitor IBD patients," says Dr. McMahon, "and periodic endoscopic evaluation is still an important part of a patient's overall IBD care."

The Benefits and Drawbacks of FCT
Comparatively speaking, there are multiple advantages of an FCT for IBD patients. For example, unlike blood tests such as C-reactive protein, which identify elevated inflammation somewhere in the body, an FCT is particular to the GI tract. "Since fecal calprotectin is measured directly in the patient's stool sample," says McMahon, "it is more specific for intestinal inflammation."
Another big plus: It's non-invasive. To assess disease activity, a stool test doesn't require drawing blood, going in for imaging, or having a procedure requiring sedation. "You can actually correlate the activity without doing a colonoscopy," says Abraham.
On the downside, many patients aren't used to collecting their own stool. Abraham finds most people are fine with blood draws, but bringing feces from home or timing a bowel movement to a doctor's appointment can be challenging. FCT results aren't immediate, either. Since many medical facilities aren't equipped to examine stool in-house, Abraham says, "It may take about a week or so to get the results back."
Finally, though it may be more problematic during diagnosis, an FCT cannot identify the cause of inflammation—just that levels are elevated. And that increase, says McMahon, "can be due to other conditions that are not necessarily IBD, such as bacterial or viral infection of the small intestine or colon."
Tips for Moving Forward
If you're having an FCT, check with your health insurance company regarding coverage, since some plans may not pay for the test. Then, to ensure accurate results, discuss the process with a provider. Collect stool with a provided container, make certain the sample never touches the toilet, and label everything "with your name, date of birth and the date of the collection," says McMahon.
Finally, remember that an FCT is just a piece of the IBD puzzle. "Although it's a useful tool," he adds, "it is only part of the overall picture used by a patient and their gastroenterologist when making decisions about other testing and treatment."
Medical reviewer and Oshi physician-partner Shannon Chang, MD is a gastroenterologist specializing in IBD at NYU Langone Health's Inflammatory Bowel Disease Center in New York City. Her clinical interests include J-pouches, pregnancy in IBD, and in-patient IBD management. Dr. Chang is an Assistant Professor of Medicine, as well as the Associate Program Director for the Gastroenterology Fellowship. She completed her internal medicine residency at Mount Sinai Hospital and her gastroenterology fellowship at NYU.
Oshi is a tracking tool and content resource. It does not render medical advice or services, and it is not intended to diagnose, treat, cure, or prevent any disease. You should always review this information with your healthcare professionals.