By Kristen Sturt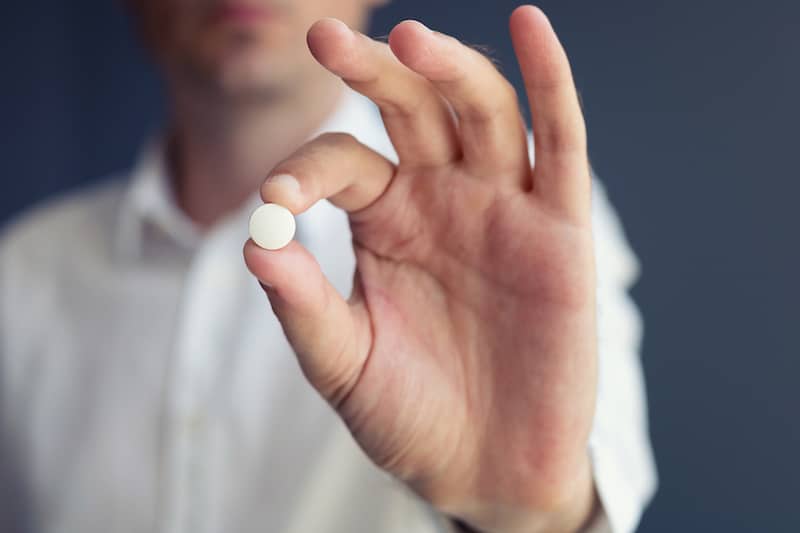 Medically reviewed by Jenny Blair, MD
Finding an effective treatment for moderate to severe ulcerative colitis (UC) is often a difficult endeavor. Tofacitinib (Xeljanz) may be recommended to patients who haven't adequately responded to other drugs, such as biologics. It can be tried instead of starting these therapies as well.
The Food and Drug Administration only approved Xeljanz to treat UC in 2018, and researchers are still in the process of gaining experience with and studying the drug. In the meantime, here's what you should know if you're considering this newer medication.
1. Xeljanz may be used long-term.
It can help ease flare symptoms and induce remission, and then maintain that remission. Due to a lack of research, it's not presently recommended by the American College of Gastroenterology as rescue therapy for acute, severe UC flares.
2. It's a Janus kinase (JAK) inhibitor.
Xeljanz works by preventing enzymes called JAKs from triggering an immune system response that leads to inflammation. This may help relieve UC symptoms and let damaged intestinal tissue heal. Similar drugs called filgotinib and upadacitinib are currently in trials.
3. Xeljanz is a tablet.
Many UC drugs intended for long-term use are administered via injection or through an infusion, often at a medical facility. In contrast, Xeljanz is an oral medication you can take at home. For the first eight to 16 weeks, you'll swallow a 10-milligram (mg) pill two times per day, either on its own or with food. If you have a good response to the drug and your doctor decides to continue you on it, the dosage drops to 5mg.
While some inflammatory bowel disease medications perform better when they're combined with others, Xeljanz shouldn't be paired with biologic drugs or an immunomodulator such as azathioprine.
4. It's not right for everyone.
In addition to your personal wishes and healthcare provider's preference, the choice to use Xeljanz may depend on several factors. These include your other medical conditions and medications, your reaction to previous IBD drugs, and your health insurance coverage.
For some patients, Xeljanz may begin working within a few weeks—or even days—of starting on the medication. For other patients, it may not satisfactorily alleviate symptoms after months of use. If you don't see acceptable improvement after 16 weeks at the 10mg dose, your provider will likely stop using Xeljanz and switch to a different treatment.
5. Taking Xeljanz may increase your risk of shingles.
In trials, about 5 percent of patients receiving regular 10mg doses of tofacitinib developed herpes zoster (shingles), which leads to painful rashes. Providers can administer the recombinant zoster vaccine (Shingrix) before or right after starting on Xeljanz.
Beyond shingles, the most common side effects of the drug are colds, a bump in cholesterol, headaches, upper respiratory infections, rashes, diarrhea, and higher blood levels of an enzyme called creatine phosphokinase, which indicates muscle damage. Though they're relatively rare, lymphoma and skin cancers are likelier with Xeljanz, as are dangerous infections.
6. It could affect your other medical conditions.
Speaking of infections, let your IBD team know if you have an active infection before starting on Xeljanz. They should also be aware of:
Active or past exposure to tuberculosis or hepatitis B or C
Cancer or a history of cancer
Liver problems
Kidney issues
Diabetes, HIV or a weakened immune system
Diverticulitis, stomach pain or digestive tract ulcers
Pregnancy, plans to have a baby, or whether you're breastfeeding
Other medications, vitamins or supplements
Missing immunizations
Patients should receive blood and liver tests prior to starting Xeljanz and at regular intervals while on the medication. Among other things, these gauge your levels of cholesterol and red blood cells, as well as certain types of white blood cells—key to monitoring your health status.
7. Take Xeljanz only as prescribed.
Whether you're on Xeljanz or another therapy, it's crucial to use UC medication according to your provider's directions. Discontinuing use or skipping doses may interrupt remission and result in a re-emergence of symptoms, not to mention higher medical bills. Don't hesitate to contact your team with questions, concerns or reports of unusual side effects between regular checkups.
---
Jenny Blair is a writer and journalist covering science, medicine, and the humanities. She earned her MD at Yale University, then completed a residency in emergency medicine at the University of Chicago. After several years in practice, she transitioned to working with words and ideas full-time. Jenny has contributed to Discover, New Scientist, Washington Spectator, and Medtech Insight, among other publications. She lives in New York City.
Oshi is a tracking tool and content resource. It does not render medical advice or services, and it is not intended to diagnose, treat, cure, or prevent any disease. You should always review this information with your healthcare professionals.