By Natalie Hayden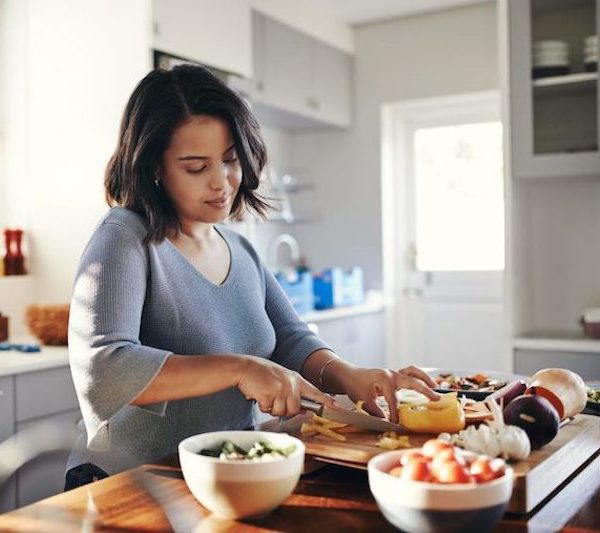 Diet and IBD. It's a controversial topic to cover, as each patient's relationship with food and drink is unique. One person's trigger food can be another person's safe food. To make things even more challenging, evidence-based research on the topic is seriously lacking. That being said—it can still be interesting to read about how other people living with IBD navigate diet. So, I interviewed five IBD advocates about their approach to diet and nutrition.
Remember, what works for them might not work for you. And if you're thinking about making any major changes to your diet, always loop in your doctor.
Keep a Food Diary
Keri Ann Flaccomio, age 29, Crohn's disease, Paramus, New Jersey
Instagram: @keriannecdotes, Twitter: @keriannecdotes
I record what I eat each day and make notes as to what bothers me, what doesn't, how many times I go to the bathroom and more, says Flaccomio. This might help you and your doctor identify your trigger foods, she says.
When Flaccomio is having a hard time with diet, she tries cutting out foods that tend to make her flare and, once she's feeling better, she slowly reintroduces things a little at a time, noting how her body reacts.
"The time to be adventurous with your food choices is when you're not on a schedule and have the ability to get home or to a bathroom should something bother you."
Make Your Favorite Meals IBD-Friendly
Brooke Abbott, age 35, ulcerative colitis, Los Angeles, California
Instagram: @crazycreolemama, Twitter: @CrzyCreoleMommy
After undergoing J-pouch surgery for ulcerative colitis, Abbott went through an intense trial and error with her diet—and she discovered some off-limit foods like quinoa and brown rice. She still takes pleasure in eating good food, but she modifies certain foods that may exacerbate her UC symptoms.
"I drink a low acid organic coffee. If I'm out, I'll drink a mild roast with added hot water," says Abbott. She also avoids foods that have a membrane or skin—like bell pepper and corn—that doesn't break down easily.
Abbott also uses an Oral Rehydration Supplement called Drip Drop in her water to keep her hydration up. "And when not eating out or hosting a dinner party, I keep it simple: rice, meat and steamed veggies."
Pick Nutrient-Rich Foods
Laura Scaviola, age 31, Crohn's disease, Wallingford, Connecticut
Instagram: @mangiapaleo, Twitter: @MangiaPaleo
Scaviola tries to stick to a nutrient-dense—read: foods packed with vitamins and minerals—unprocessed diet, whenever possible.
Although her relationship with food when flaring versus remission is very different, she considers the nutritional value of each meal she prepares. For example, when flaring, food choices are usually low residue such as bone broth and egg for protein, zucchini, and melon. Food choices while in remission are a more flexible balance of white protein and nutritious vegetables prepared in creative ways like cucumber noodles or shredded chicken stuffed sweet potatoes.
Eat the Right Foods When You Flare
Justin Birnbaum, age 26, Crohn's disease, Staten Island, New York
Twitter: @JustBirny
"When I'm flaring, the first thing I do is reduce my fiber intake," says Birnbaum. "I don't want to make my bowels work any harder than necessary when symptomatic. It's ironic because healthier dietary choices don't usually mix with a flare-up."
"Vegetables are great, but unless they're cooked or pureed when I'm flaring, they can be difficult to digest," he adds.
Prioritize Nutrition
Bobby Frederick, age 36, Crohn's disease, Washington, D.C.
Twitter: @Bobby_Frederick
Since Frederick was diagnosed with Crohn's in 2010, he's done quite a bit of his own research to figure out which foods he should avoid and which he should embrace. "You are the best and arguably the only author who can write your food list."
Frederick says he eats for nutrition and not for taste. "This isn't always easy, but it's a good mantra to keep in mind while ordering or preparing food."
He also stays on top of the latest research and when he sees his doctor and gastroenterologist, asks if they've read or heard about any new studies regarding diet and IBD.
---