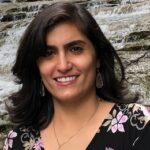 By Tina Aswani Omprakash
Medically reviewed by Matthew Hamilton, MD
Each year the Crohn's & Colitis Foundation and American Gastroenterological Association (AGA) join hands to bring healthcare providers, patient advocates and industry leaders together at the Crohn's & Colitis Congress (Congress). The purpose of Congress is to help transform care by bringing forward a multidisciplinary approach in the treatment of inflammatory bowel disease (IBD) patients.
As a patient advocate who shared my story during this year's session on the Management of Complicated IBD: Perianal Disease, I came to learn that many patients around the world want to hear about the highlights. And so, here are my picks for the most important topics discussed at Congress.
Diet and Nutrition
People with IBD often have questions about diet and nutrition—however, there's a lack of evidence-based research on the topic. As such, the Crohn's & Colitis Foundation, the University of Pennsylvania and the University of North Carolina, Chapel Hill are conducting a clinical trial called DINE-CD, which compares the Specific Carbohydrate Diet and Mediterranean Diet for the treatment of mildly symptomatic Crohn's disease. This study—which should be complete in January 2020—will hopefully elucidate the role of specific diets in the management of IBD.
Ece Mutlu, MD, of Rush University Medical Center in Chicago, also made an interesting recommendation about diet during the Nutritional Therapy for IBD segment at Congress. Dr. Mutlu encouraged gastroenterologists to talk about nutrition with patients and suggest simple (read: doable) dietary changes. For us patients, that translates to working with our team of providers (gastroenterology and IBD-specialized nutritionists) to manage a few dietary changes at a time rather than overhauling our diets to our detriment.
Another presentation by pediatrician and Cochrane Group researcher Morris Gordon, MBChB, MMed, PhD, touched on the subject of diet in IBD. Dr. Gordon showed that the impact of diet on IBD is still inconclusive and that more rigorous studies are needed.
Mental Health
The psychosocial burden of IBD was also given a greater focus throughout the conference this year. There were many patient perspectives given during the three Management of Complicated IBD breakout sessions (Stricturing Disease, Perianal Disease and Dysplasia), which, in my opinion, showed a real effort to humanize IBD and treat the whole person.
"When it comes to mental health in IBD patients, anxiety and depression are the big topics that come up", says Tiffany Taft, who is a clinical psychologist specializing in the psychological burden of digestive diseases at Northwestern University in Chicago. "We're still not getting into the weeds about why IBD patients feel anxious or depressed."
Dr. Taft, who presented at Congress, says that raw patient stories at conferences like Congress and on social media are key to understanding the factors that disrupt mental health. She says patients should continue to share their stories and ask practitioners to study medical/surgical trauma, IBD-related PTSD, food-related anxieties and treatment fears.
Pregnancy with IBD
In January, the AGA and the IBD Planned Parenthood Project released guidelines on the best practices for managing IBD in patients who are either pregnant or trying to conceive.
During the AGA's IBD Parenthood Project segment at Congress, the study's co-author Marla Dubinsky, MD, of the Icahn School of Medicine at Mount Sinai in New York City, reiterated two findings from the guidelines. Controlling the mother's inflammation helps improve outcomes for the child, and the risk from a flare is greater than any risk to the baby from the IBD drugs the mother may take.
Dr. Dubinsky also emphasized the need for pre-conception counseling to ease patients' minds on pregnancy and taking immunosuppressive medications. To achieve this, she encouraged providers to, "Engage directly with patients. Don't wait for them to ask. They all want to know [about pregnancy]."
I asked Congress attendee and founder of About IBD and co-founder of IBD Moms, Amber Tresca about these guidelines. "Voluntary childlessness is common in IBD due to misconceptions and fears. But we now have the tools to guide a pregnancy without women having to get off their medications, which is encouraging." Tresca was one of the patient advocates involved in the launch of the IBD Parenthood Project last month.
The takeaway here: With the advent of new medications to control IBD, it's important for patients trying to conceive to work with a multidisciplinary team of healthcare providers to control disease and prepare for pregnancy. Pregnancy outcomes are best when mom is well.
Current and Emerging Therapies
There was a lot of buzz on emerging therapies given the new biological and small-molecule medications currently in the IBD treatment pipeline.
Crohn's patient and founder of Inflamed & Untamed, Sara Ringer said the pipeline represents hope for a better tomorrow with IBD. Ringer attended Congress and is a well-known IBD advocate who is involved with a number of IBD initiatives including the Crohn's & Colitis Foundation's IBD Qorus project.
"There is a large population who don't respond to medications or who lose response to medications. We still have a long way to go. We, as patients, can do our part to make that happen by enrolling in trials and sharing our experiences," Ringer added.
During the segment at Congress called What Are We Doing for Anti-TNF Refractory Patients? gastroenterologist Maria Abreu, MD, of the University of Miami in Florida, explained the use of high-dose tofacitinib to help otherwise medically refractive ulcerative colitis patients avoid colectomy surgery.
I asked Neilanjan Nandi, MD, assistant professor of medicine and director of Center for Inflammatory Bowel Disease at Drexel University in Philadelphia, about this emerging therapy. "I have been prescribing tofacitinib with success but there are small-molecule medications in trials that have even more specific targets. They will likely work better and be even safer to use."
"At Congress, it was important to see the research being done on the microbiome's involvement in IBD. We've been targeting the immune system for years now. The hope is we can develop medications to address both the microbiome and the immune system to improve patient outcomes," Dr. Nandi continued.
The Role of Big Data and Social Media
Lastly, there was an emphasis on big data and social media to understand patient needs, and to improve care and outcomes. In the segment at Congress on How Big Data Will Shape Our IBD Care Model, it was said that with more patients sharing their experiences on social media, there is much knowledge to be gleaned on patient preferences for biologics and decision-making surrounding treatment options.
For example, one slide showed that there were more than 15,000 online posts about the use of biologics in IBD—including positive and negative experiences with the drug. Big data could also be used to help answer IBD questions including, which patient will benefit from which therapy, and which patients will have adverse side effects from therapy?
When asked about the role of big data, both patient advocates Ringer and Tresca explained the necessity for patients to participate in surveys and focus groups with the Crohn's & Colitis Foundation, as well as on social media and at conferences like Congress.
"Our feedback does make a difference and eventually lead to better outcomes," said Tresca.
"If we aren't including patients, then we are by default excluding them, said Ringer regarding the importance of providers and industry to hear patient voices at conferences and on social media. "Providers cannot treat the whole person if they don't understand patient needs."

Until Next Year
While many novel studies and approaches were discussed during the three-day Congress meeting, these topics appeared to be the most salient for the IBD patient population, in my opinion. It was an honor to attend, speak and cover the conference and I look forward to next year when Crohn's & Colitis Congress takes place in Austin, Texas.
---
Medical reviewer and Oshi physician-partner Matthew J. Hamilton, MD is an Assistant Professor of Medicine at Harvard Medical School and a specialist in Gastroenterology, Hepatology, and Endoscopy at Brigham and Women's Hospital Crohn's and Colitis Center in Boston. He is a leading member of the research team at the BWH Crohn's and Colitis Center, and has garnered national recognition for his research into the underlying inflammatory processes of IBD.
Oshi is a tracking tool and content resource. It does not render medical advice or services, and it is not intended to diagnose, treat, cure, or prevent any disease. You should always review this information with your healthcare professionals.