By Kerry Weiss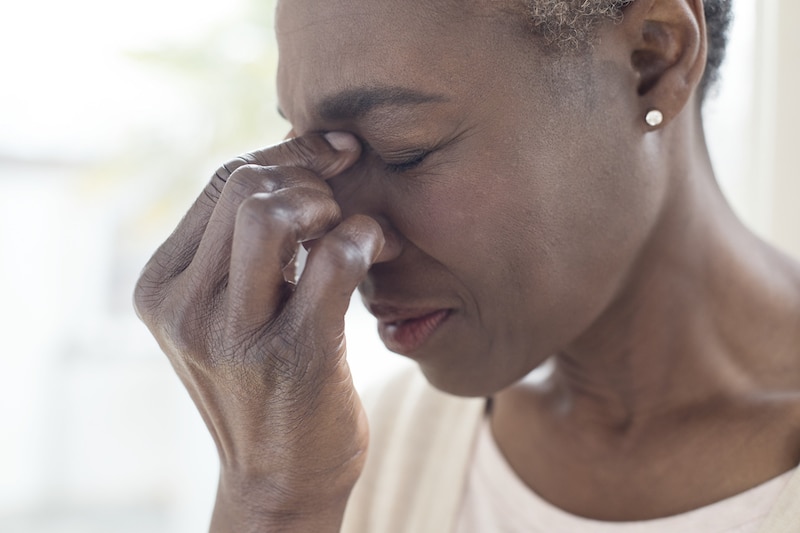 Medically reviewed by Shannon Chang, MD
Inflammatory bowel disease, or IBD, is a chronic condition that has no cure. The good news? It can be managed. And with today's treatment landscape, you can even achieve and maintain remission, thanks to ongoing treatment advances such as biologics.
However, people who take biologics for IBD may experience certain side effects. Here are some common side effects to be aware of—plus tips for managing them.
1. Injection site reactions.
"Injection site reactions are pretty common with many injectable biologics," says Faten N. Aberra, MD, MSCE, associate professor of medicine in the division of gastroenterology at the University of Pennsylvania in Philadelphia. This may include things like redness, itching, bruising, pain, or swelling at the injection site.
"Most of the medications are kept cold, so it helps to leave out the medication for a half hour to an hour before giving yourself the injection," says Dr. Aberra. "Or you can take a pain reliever, such as acetaminophen, before the injection. You can also ice the area to numb it before you inject." And there's good news if you take adalimumab—it's now available as a citrate-free formula with a smaller injection needle and smaller volume, which helps reduce the likelihood of pain with injection.
2. Upper respiratory infection.
"The most common side effect with the anti-TNF class of biologics is upper respiratory infection," says Aberra. This includes things like the common cold or a sinus infection. Be sure to see your primary care physician (PCP) or ear nose and throat (ENT) doctor if you think you have an upper respiratory infection, as they can help you manage those symptoms without interfering with your biologic treatment. "They can treat the infection as well as recommend things that can help alleviate symptoms, like saline sprays to help keep your nasal passages clear," adds Aberra.
And prevention is the best medicine—so it's important to stay up-to-date with your annual flu vaccine. Two pneumococcal vaccinations are also recommended for patients who are on biologics.
3. Headache.
Headaches can also be a side effect of your biologic treatment. "One thing to consider is that there's that higher risk of sinus infection, which can manifest as a headache," explains Aberra. So you can also manage headache pain related to your biologic treatment by working with your PCP or ENT to help minimize your symptoms.
4. Fever or chills.
"If someone has a high fever—or if they have a cold, and they're about to get their injection—your doctor may have you delay your next injection or infusion until you're on the mend," says Aberra. "Because one thing that biologic medications can do is prolong these types of infections." However, don't delay or skip your medication without first speaking to your doctor.
5. Allergic reactions.
While biologics can cause an allergic reaction, "that's actually pretty rare," says Aberra. Though there are a few red flags to be aware of. "Allergic reactions usually happen within 24 hours of being on the medicine, and typically cause hives, shortness of breath, and chest pain," explains Aberra.
"But you can also have delayed reactions—up to two weeks after a biologic is given—which presents differently, with symptoms like rash, achiness, and joint pain. And that may be something that people are unaware of." If you experience these types of symptoms, talk to your doctor as soon as it happens so you can determine next steps.
Don't Be Intimidated By Side Effects
Even though this list of side effects can seem daunting, remember that biologics are a promising class of IBD treatments. "Side effects are not a given," says Aberra. "Even though there are numerous side effects listed, they are rare."
And they're manageable. "A lot of times, it's a matter of treating the symptoms you're experiencing as opposed to discontinuing the biologic medication altogether," adds Aberra.
Medical reviewer and Oshi physician-partner Shannon Chang, MD is a gastroenterologist specializing in IBD at NYU Langone Health's Inflammatory Bowel Disease Center in New York City. Her clinical interests include J-pouches, pregnancy in IBD, and in-patient IBD management. Dr. Chang is an Assistant Professor of Medicine, as well as the Associate Program Director for the Gastroenterology Fellowship. She completed her internal medicine residency at Mount Sinai Hospital and her gastroenterology fellowship at NYU.
Oshi is a tracking tool and content resource. It does not render medical advice or services, and it is not intended to diagnose, treat, cure, or prevent any disease. You should always review this information with your healthcare professionals.