By Kerry Weiss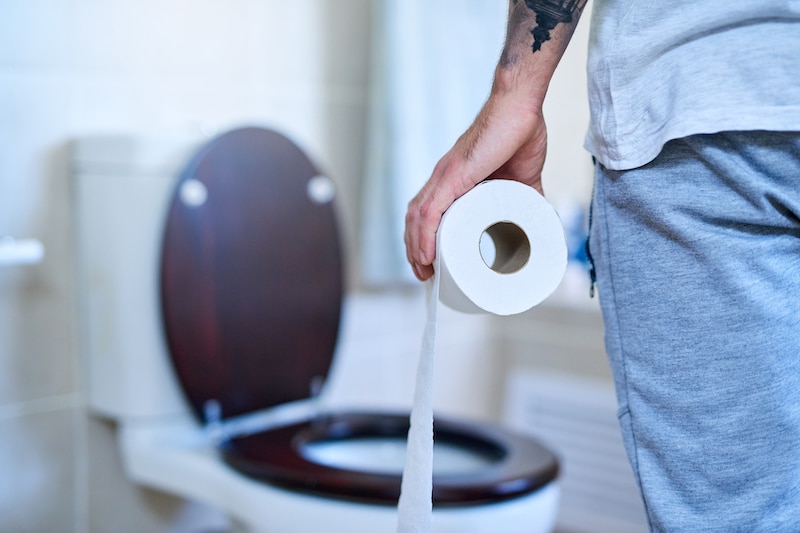 Medically reviewed by Matthew Hamilton, MD
Sponsored Content
Crohn's is a type of inflammatory bowel disease that can affect any part of your gastrointestinal (GI) tract—from your mouth to your anus. While Crohn's affects everyone differently, certain symptoms are more common than others.
Common Crohn's Symptoms You Should Know About
With Crohn's, the underlying inflammation affects the ability of your GI organs to work the way they should, which can lead to these six hallmark digestive symptoms of the disease:
Persistent diarrhea
Rectal bleeding
Abdominal pain or cramping
New or worsened constipation
Urgency to have a bowel movement
Unexplained fevers or weight loss
Crohn's disease may appear in patches throughout your digestive tract—affecting some areas but not others. Over time, symptoms can also change, and range from more mild to more severe, depending on the location and severity of the underlying inflammation in your body. What's more, you'll likely also go through periods of remission, where you experience no symptoms, mixed with periods where symptoms flare up.
How to Find Relief When Crohn's Symptoms Strike
There's no cure for Crohn's—so the best thing you can do to control the underlying inflammation and alleviate Crohn's symptoms is to work with your doctor to find the right treatment plan that can help you achieve and maintain remission. That said, there are a few steps you can take to find symptom relief:
Use a perianal cleansing product to promote good anal hygiene.
Use a moist wipe instead of toilet paper to help reduce anal irritation.
Apply skin protectant ointment to relieve anal irritation.
Bathe in warm water or use a sitz bath to relieve anal soreness.
Ask your doctor if you'd benefit from anti-diarrheal medications to relieve persistent diarrhea.
Ask your doctor if using over-the-counter pain medications, like acetaminophen, can help relieve abdominal pain and cramping.
Alter your diet as needed to help you manage abdominal pain and cramping. Your diet during a flare will likely be different than your diet in remission.
Take steps toward self-care—get a good night's sleep and rest when you need to, and find ways to manage stress.
Join a support group to get tried and true tips from others with the condition who are dealing with the same issues—and pay it forward by sharing what works best for you, too.
What to Do When Symptoms Just Won't Quit
If you feel like you're always in a flare and you've already tried every Crohn's medication in the book, and you're still having trouble finding the right treatment plan to control your Crohn's, you might want to join IBDiscover's clinical research studies ADVANCE or MOTIVATE. Currently, these two clinical research studies are enrolling individuals who:
Have been diagnosed with Crohn's disease for at least 3 months
Are between ages 16 and 80
Currently have active Crohn's symptoms (for example, abdominal pain or an average of 4 or more bowel movements a day), and
Have tried biologic therapies for Crohn's disease, but still have symptoms, or
Have never tried biologic therapies for Crohn's disease, but have tried conventional therapies and still have symptoms
Interested in these clinical research studies? Find out if you're a good candidate for these clinical research studies by completing the online questionnaire.
---
Medical reviewer and Oshi physician-partner Matthew J. Hamilton, MD is an Assistant Professor of Medicine at Harvard Medical School and a specialist in Gastroenterology, Hepatology, and Endoscopy at Brigham and Women's Hospital Crohn's and Colitis Center in Boston. He is a leading member of the research team at the BWH Crohn's and Colitis Center, and has garnered national recognition for his research into the underlying inflammatory processes of IBD.
Oshi is a tracking tool and content resource. It does not render medical advice or services, and it is not intended to diagnose, treat, cure, or prevent any disease. You should always review this information with your healthcare professionals.