By Kerry Weiss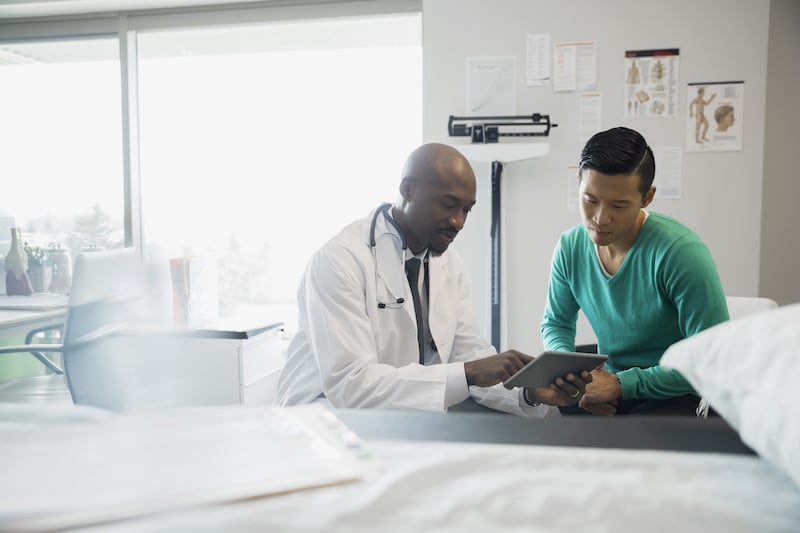 Medically reviewed by Matthew J. Hamilton, MD
When you have moderate to severe inflammatory bowel disease (IBD), biologic treatment can help you achieve and maintain remission. You likely know the importance of sticking with your treatment plan—even when you're feeling well—in order to keep your IBD under control. But how do you know if your biologic treatment stops working? What steps should you take with your provider if you want to change treatment?
When Symptoms Flare, Talk to Your Doctor
As it turns out, there are some telltale signs your treatment is no longer working, such as:
Your symptoms persist and are not getting better
Your symptoms are getting worse
You're experiencing new IBD-related symptoms you haven't had before
"With ulcerative colitis and Crohn's disease, their manifestations can vary, so you can't put a universal symptom to that," explains Faten N. Aberra, MD, MSCE, associate professor of medicine in the division of gastroenterology at the University of Pennsylvania in Philadelphia.
So it's important to bring up any persistent, new, or worsening symptoms you're experiencing with your doctor to start the discussion of whether or not a treatment change might help you regain control.
One way to help facilitate this conversation is to keep a detailed log of your symptoms (with Oshi's IBD Tracking App) and bring it to your next appointment to review with your doctor.
Review Test Results with Your Doc, Too
"A lot of times, in addition to monitoring symptoms, we're also monitoring the disease by objective data as well," explains Dr. Aberra. This includes things like:
Colonoscopy
Abdominal radiology imaging
Fecal calprotectin
"Sometimes we're doing this proactively—we're not necessarily waiting until you flare," adds Aberra. So part of the discussion with your doctor about whether or not you may benefit from a treatment change should include going over your test results to clarify the current state of your IBD disease activity.
Other Factors to Discuss
You may also want talk to your doctor about whether or not you'd benefit from a treatment change if you:
Experience treatment side effects. Common side effects, like injection site reactions, don't necessarily require you to stop treatment entirely. "A lot of times we modify treatment before discontinuing it completely—especially if that treatment is working," says Aberra. "But you need to talk to your provider about the specific side effects you're experiencing, and based on that conversation, together you can decide whether or not discontinuation of therapy is needed."
Can't afford treatment. Fact: Biologics are expensive. If you're having trouble paying for treatment, you should let your doctor or other IBD provider such as your infusion nurse know. Most drug companies have assistance programs, and your doctor can help you navigate how to keep costs down. "Sometimes there are loopholes," explains Aberra.
You're feeling well. Congratulations—remission is the ultimate goal when treating IBD! But just because you're feeling well doesn't mean you can taper your medications or stop taking them altogether. Continuing with your treatment plan can help keep inflammation at bay and continue to prevent flares—so stick with it even when you're feeling better.
How to Talk to Your Doctor About a Treatment Change
If you're curious about whether or not you may benefit from a change in treatment, it's essential to have an open and honest discussion with your doctor. Together, you can discuss any symptoms you're dealing with, review your most recent test results, and determine if any other factors may signal that you should consider a treatment change.
Once you have an open line of communication, you and your doctor can decide if an adjustment to your current dosage, a switch to a different medication in the same class of biologic, or a switch to a new type of biologic is the best course for you.
"It is so, so important that patients be 100% involved in shared decision making," emphasizes Aberra. "Let your provider know what you're experiencing so you can have a discussion about what it means and what steps you can take from there."
And the earlier, the better. "If something new is happening, it's always a safe bet to discuss it with your provider so an early decision can be made about what to do," adds Aberra.
Medical reviewer and Oshi physician-partner Matthew J. Hamilton, MD is an Assistant Professor of Medicine at Harvard Medical School and a specialist in Gastroenterology, Hepatology, and Endoscopy at Brigham and Women's Hospital Crohn's and Colitis Center in Boston. He is a leading member of the research team at the BWH Crohn's and Colitis Center, and has garnered national recognition for his research into the underlying inflammatory processes of IBD.
Oshi is a tracking tool and content resource. It does not render medical advice or services, and it is not intended to diagnose, treat, cure, or prevent any disease. You should always review this information with your healthcare professionals.