What We Offer
During this 10-week program, you'll work closely with a Registered Dietitian & Health Coach to identify your unique food & lifestyle symptom triggers. You'll then receive a custom care plan that focuses on food & lifestyle changes to support your whole health–mind, body and gut. Your Care Team will provide you with individualized health support and guidance to help you execute on your unique care plan. Take the eligibility survey today and experience Oshi's supportive and patient-centric approach to digestive health care! The best part? It's available 100% at no-cost to you!
Personalized Support

Individualized food, lifestyle & health behavior support and guidance from Oshi's Registered Dietitian and Health Coach.

Convenient Care

Video or Voice appointments with your Care Team – plus, quick troubleshooting and response times from our Care Team.

Free RD Access

Work with a Registered Dietitian who understands your specific digestive health issues, preferences and lifestyle habits.

Expert Coaching & Guidance

One-on-one support from a Health Coach who understands your unique health goals
What To Expect
Throughout this 10-week program, your Registered Dietitian, Health Coach and Care Coordinator will give you the support and expert guidance you need every step of the way.
Thanks For Your Interest - Our Program is Fully Subscribed
Pre-Visit Prep

Log your symptoms and diet for 3 days prior to your first consultation

Health Consultation

Video Chat with one of our Registered Dietitians about your digestive symptoms, health history and lifestyle preferences to see if our program is right for you

Receive Your Personalized Care Plan

You'll get a unique symptom management care plan that's specifically tailored to your health goals and lifestyle preferences

Execute Your Care Plan with Expert Support & Guidance

Work closely with your Registered Dietitian and Health Coach to figure out what foods and lifestyle habits might be triggering your symptoms

Complete the Program!

Move at your own pace throughout the program to find what works with your body!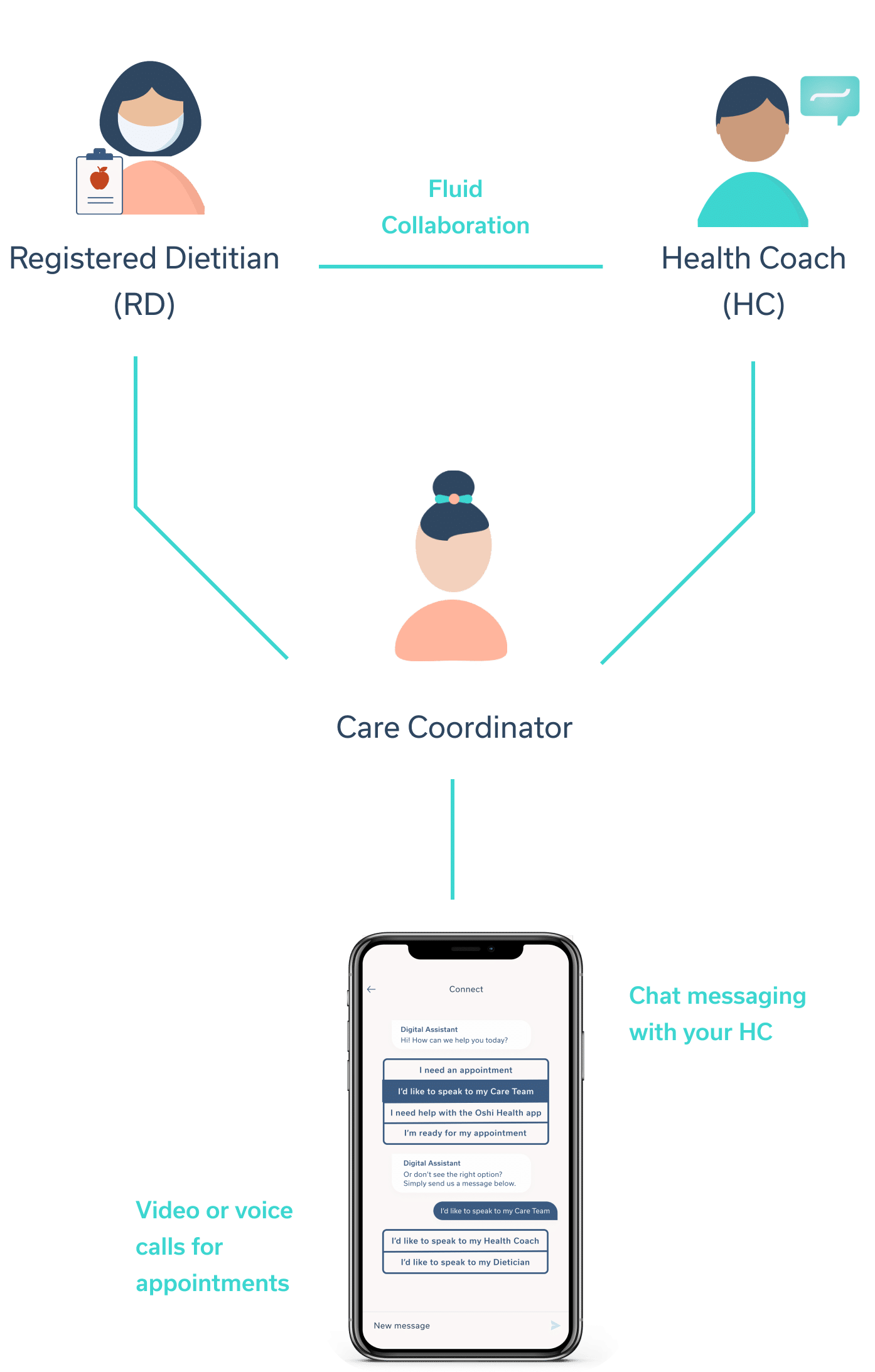 Real Life Success Stories
Here's what real Oshi users have to say about our health services:
Frequently Asked Questions
Free Program (Eligibility, Cost, Sign Up, And Getting Started)
Oshi Health Care Team Providers